RIKEN enters partnership to develop diagnostic medical technology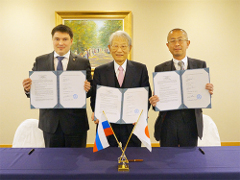 On December 16, a ceremony was held in Tokyo for the signing of an agreement between RIKEN and two partners—Eidos-Medicine, LLC, a Russian medical technology company, and K.K.DNAFORM, a RIKEN venture company that was set up to commercialize discoveries such as those made by the FANTOM collaboration. The goal of the current memorandum of understanding, which was adopted as a project under plans for economic cooperation between Japan and Russia, is for the three organizations to work together to develop a portable system that can be used to diagnose infections.
In addition to a group of RIKEN executive directors, the ceremony was attended by Yoshihide Hayashizaki, Program Director of the Preventive Medicine and Diagnosis Innovation Program, which coordinates research on medical technology in the areas of preventive medicine and diagnostics.