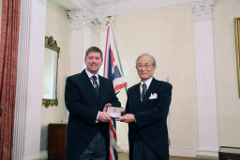 On February 23, RIKEN President Hiroshi Matsumoto was named Honorary Officer of the Most Excellent Order of the British Empire at an investiture ceremony held at the British Embassy Tokyo. The award, which was presented to him by Paul Madden, the British Ambassador to Japan, was granted "in recognition of his outstanding contribution to research and education relations between the UK and Japan."
According to the announcement made by the British Embassy, "Professor Matsumoto's commitment to promoting academic excellence through international collaboration has helped build strong research relationship between the UK and Japan." It further noted that as president of RIKEN, "he continues to apply his leadership and strong experience to internationalizing Japan's research base."
Upon receiving the award, President Matsumoto said, "It is an enormous honor to be awarded this status, and it is particularly so as a graduate of engineering to receive this recognition from the country that gave birth to the industrial revolution. I am indebted to my predecessors for their guidance and for the achievements of previous presidents of Kyoto University and RIKEN."
He continued, "I believe that RIKEN can contribute to the building of friendly relations between nations by working to solve the challenges based by advanced nations such as Japan and the United Kingdom, as well as the many problems facing the entire world, and I plan to continue to promote exchanges between Japan and the United Kingdom as well as around the world."
An announcement was made by the British Embassy Tokyo and the UK Science & Innovation Network in Japan (link to the announcement).