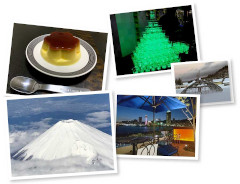 We are currently designing a poster to advertise Fugaku, Japan's planned new supercomputer, and are asking people from around the world to send us photos and other graphics that we can incorporate into a mosaic. We hope to gather around 2,000 photos or illustrations, and use them as mosaic pieces of a poster to publicize the new computer.
The supercomputer Fugaku is scheduled to begin operations around 2021, with a speed up to 100 times that of its predecessor, the K computer. The name Fugaku, which was selected earlier this year based on proposals from the public, is another word for Mt. Fuji, Japan's tallest mountain. We are hoping to receive photos or illustrations that depict either Mt. Fuji or Kobe, where the new computer will be located, or which show something for which your own town or area is known for being number one! The deadline for submissions is September 13. The poster will be ready for display by November 9. We will also give special gifts to 20 people selected at random from people giving us images.
For more details please see the announcement on the RIKEN Center for Computational Science website.