Hidehiro Fukuyama, Deputy Team Leader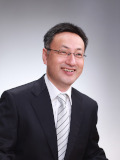 Laboratory for Lymphocyte Differentiation, Center for Integrative Medical Sciences
Could you describe the aim of your project?
We are developing an adjuvant vaccine for COVID-19. Our goal is to establish a safe and simple vaccine for COVID-19. Adjuvant vaccines help by boosting the immune response, so they allow a smaller amount of antigen to be used, making it safer.
Why did you decide to undertake this project?
Vaccination was a great invention that has allowed us to prevent various infectious diseases. Our recent resarch on how an adjuvant can enhance the immune resonse led us to a serendepitous finding. We thought that we could make use of it to develop a vaccine against COVID-19. Herd immunity requires the global community to be immunized simultaneously. We will work to develop a needle-less vaccine system by taking an advantage of our new adjuvant discovered at RIKEN.
What techniques are you using?
We have been working on adjuvant vaccines based on a compound used to treat psoriasis, a skin disease, and realized we could leverage this research toward COVID-19. We are currently designing a vaccine antigen from the spike protein on the surface of the SARS-CoV-2 virus. What is unique about our vaccine is that we use a well-known compound, vitamin D to enhance the immune reaction from vaccination.
What have you found out so far?
We know that our vitamin D-based vaccine works for influenza. We are now preparing all materials to apply it toward a COVID-19 vaccine.
What is the next step in your work?
We are currently looking for a partner to achieve our goal of turning this technology into a product.