Takuo Tanaka, Chief Scientist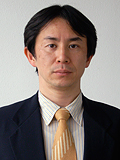 Metamaterials Laboratory, Cluster for Pioneering Research
Could you briefly describe your research project?
We are working to develop a biomolecule sensing device that can detect the existence of a virus through color changes that people can see with the naked eye.
What led you to launch this research project?
In our previous work we developed a device based on nanometer-scale metal structures that exhibited color. The color can change drastically based on changes in the surrounding refractive index. By using this mechanism, we thought we would be able to create a device that can detect the existence of a virus or the presence of biomolecules from a virus.
What methods are you using in your work?
Our device consists of two metal parts, and when they bind with certain gaps, they acquire a color. By using molecular binding phenomena such as antigen-antibody reactions, we expect a color structure to form self-organizationally, allowing us to see the chromatic change.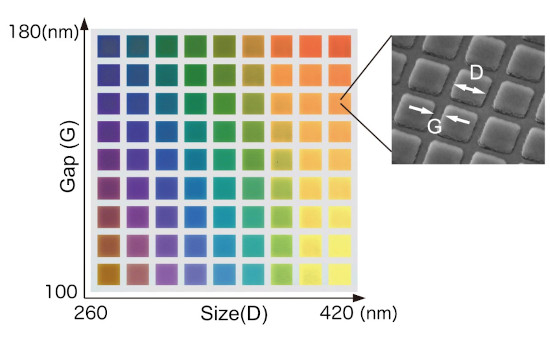 Chart of colors created by the device
What have you learned so far?
We have already clarified the relationship between the structure and color. We have also succeeded in creating color structures using antigen-antibody reactions. Now we are performing work to optimize the color structure to maximize the color change before and after the binding with biomolecules.
What issues remain in your project?
We need to demonstrate the sensitivity of the device and plan to use SARS-CoV-2, the virus that causes COVID-19, as a real test sample to show its sensitivity and reproducibility.