RIKEN and Max Planck Society hold joint symposium on systems chemical biology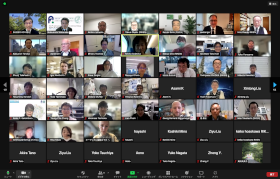 On October 26, 2021, RIKEN and the Max Planck Society held an online symposium, featuring two keynote lectures from researchers from each institute discussing the collaborative work between the two institutes in the field of systems chemical biology.
The symposium began with addresses from RIKEN Executive Director Yuko Harayama, MPG Vice President Klaus Blaum, and RIKEN Center for Sustainable Resource Science Director Kazuki Saito.
Then, from MPG, Herbert Waldmann spoke about "Small molecules for systems biology," and Peter Seeberger spoke on "Chemical biology: using synthetic tools to understand biological processes and create novel treatments." Following them, from RIKEN, Katsunori Tanaka talked about "Therapeutic in vivo synthetic chemistry using glycoconjugates," and Hiroyuki Osada spoke on "Chemical biology on small molecules affecting cellular events, growth, and death."
The closing was given by RIKEN Executive Director Shigeo Koyasu.