About RIKEN Research
Search by year:
2006 / 2007 / 2008 / 2009 / 2010 / 2011 / 2012 / 2013 / 2014 / 2015 / 2016 / 2017 / 2018 / 2019 /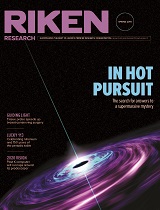 Bringing the best of research from RIKEN to the international community and raising awareness of RIKEN as a global brand are at the core of RIKEN's science communication strategy. RIKEN Research, a quarterly magazine and website, is a key tool for the realization of these aims. The magazine presents the very best of the research published by RIKEN every year in an accessible, easy-to-read format, providing regular insights into the people, facilities and programs that make up daily life at RIKEN.
The core component of RIKEN Research is short, easy-to-understand Research Highlight articles explaining for a broad scientific audience some of the latest research articles published by RIKEN researchers. The intended audience includes researchers worldwide and all those who have a strong interest in science and technology.
We hope you find RIKEN Research informative, useful and timely and that it gives you a better understanding of some of the best research being carried out at RIKEN as well as a sense of the environment and culture of our organization.