Jan. 14, 2010 Press Release Biology
Soybean agriculture to reap rewards from its genome sequence
Publication of the soybean genome sequence in the international journal Nature this week could yield a number of positive agricultural impacts, according to the authors of the study who hail from some 15 institutes in the USA and the RIKEN Plant Science Center in Yokohama, Japan.
"The genome sequence opens the door to crop improvements that are needed for sustainable human and animal food production, energy production and environmental balance in agriculture worldwide," write the authors.
In addition to being an important source of vegetable oil for cooking and protein for humans and animals, the soybean, Glycine max, also plays a key ecological role in taking nitrogen from the air and putting it back into the soil.
Using a so-called 'whole-genome shotgun approach', the researchers analyzed 20 chromosomes of the soybean plant and identified over 46,000 genes-more than double the number in humans.
Varieties of soybean plants that are resistant to diseases that reduce agricultural yields, such as Asian soybean rust, and that have high nutritional content, and hardier seeds and plants may now be possible now that the genome has been sequenced. According to the authors, the next step in this work will be to determine which genes encode for these traits.
Reference
Schmutz, J., Cannon, S.B., Schlueter, J., Ma., J. Mitros, T., Nelson, W.,Hyten, D.L. Song, Q., Thelen, J.J. Cheng, J. et al. Genome sequence of the palaeopolyploid soybean. Nature 463, 178-183 (2010). link
Contact
Tetsuya Sakurai
Integrated Genome Informatics Research Unit
RIKEN Plant Science Center
Tel: +81-(0) 45-503-9550
Jens Wilkinson
RIKEN Global Relations and Research Coordination Office
Tel: +81-(0)48-462-1225 / Fax: +81-(0)48-463-3687
Email: pr@riken.jp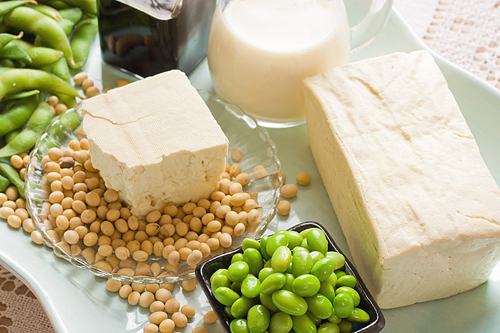 The soybean it some of its various guises including, tofu, soy milk, edamame and soy sauce.
Credit: istockphoto.com/diane555