Feb. 23, 2010 Press Release Biology
International Aphid Genomics Consortium publishes genome sequence of the pea aphid
An international consortium of leading scientists from 15 countries, including researchers at RIKEN, has published the first ever complete genome of an aphid species, the pea aphid Acyrthosiphon pisum. In a series of landmark papers to appear in journals including PLoS Biology and Insect Molecular Biology, the scientists shed light on the identity of an organism whose genome sequence offers solutions to central questions in basic biology and applied agriculture.
Both a highly destructive pest and highly complex organism, the aphid is known for the damage it causes to crops, feeding on the phloem sap in plants and spreading deadly viruses. Yet aphids have also evolved complex life cycles, alternating between sexual and asexual reproduction, producing offspring with multiple phenotypes and forming symbiotic relationships with inherited bacteria.
Many of these unusual features find their origins in the 35,000 newly-identified genes of the pea aphid genome, 37% of which, the researchers show, are unique to aphids. Among other discoveries, the researchers find a highly increased number of genes associated with reproduction, gene expression, signaling and virus transmission, and a strikingly reduced repertoire of immunity-related genes. At the evolutionary level, the discovery of a dozen functional genes of bacterial origin constitutes the first systematic evidence of horizontal gene transfer from bacteria to a eukaryotic host.
As the world's most important agricultural pest and one of its most biologically distinctive species, the aphid is of central concern to industry and science alike. The first published aphid genome provides a basis for the development of safer, more effective pest control techniques, while also setting the stage to exploring the genetic basis of a range of complex biological phenomena.
Contact
Atsushi Nakabachi
Miyagishima Initiative Research Unit
RIKEN Advanced Science Institute
Tel: +81-(0)48-467-9329 / Fax: +81-(0)48-467-9329
Jens Wilkinson
RIKEN Global Relations and Research Coordination Office
Tel: +81-(0)48-462-1225 / Fax: +81-(0)48-463-3687
Email: pr@riken.jp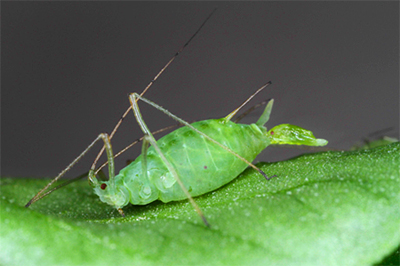 Parthenogenetic female pea aphid (Acyrthosiphon pisum) giving birth to a nymph