Jul. 2, 2010 Press Release Biology
The last checkpoint to T cell fate
A research team in Japan has linked a developmental checkpoint in the differentiation of hematopoietic progenitors into specific T cell lineages to the activity of a single gene encoding a transcription factor. Reported in Science, the discovery lends support to a new model for the development of blood cells lineages.
While varying widely in function, all blood cells share a common origin in progenitors known as hematopoietic stem cells (HSC). In textbook theory, HSCs branch early on into two progenitor cell types, one of which, known as the common lymphoid progenitor (CLP), later differentiates into T and B cells. According to this model, T and B cells lose the potential to develop into non-lymphocytes (myeloid cells) once they pass the CLP branching point.
In a model put forth nearly ten years ago, the researchers proposed a radically different picture in which progenitor cells retain the potential to generate myeloid cells across all branches of development. In the current research, the researchers sought to substantiate this theory by pinpointing the moment at which T cell progenitors lose the potential to develop into myeloid cells, a key step in determining cell fate.
In experiments with mouse HSCs cultured on immobilized delta-like 4 proteins, the researchers found that progenitors developing toward T cells were arrested in the absence of so-called feeder cells, which support survival and growth. The arrested cells then entered a cycle of self-renewal in which they replicated but did not further develop. Testing of various conditions revealed that reduction of the cytokine interleukin-7 (IL-7), possibly corresponding to an environmental signal in the thymus, triggered resumption of development and differentiation into T cells.
Placing the final piece in the puzzle, the researchers discovered that T cell progenitors in the thymus from mice deficient in the gene Bcl11b exhibited the same halted development and self-renewal cycle, while further experiments connected up-regulation of the transcription factor encoded by this gene to IL-7 levels. Together, the findings identify Bcl11b as a "master gene" governing the final step toward differentiation into T cells, confirming the proposed model and heralding a paradigm shift in our understanding of blood cell lineages.
Contact
Hiroshi Kawamoto
Laboratory for Lymphocyte Development
RIKEN Research Center for Allergy and Immunology (RCAI)
Tel: +81-(0)45-503-7010 / Fax: +81-(0)45-503-7009
Jens Wilkinson
RIKEN Global Relations and Research Coordination Office
Tel: +81-(0)48-462-1225 / Fax: +81-(0)48-463-3687
Email: pr@riken.jp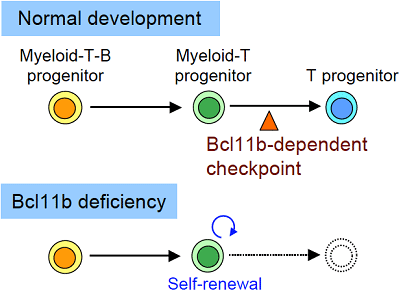 Figure: Essential developmental checkpoint for the production of T cell lineage
Model of T cell lineage determination. During regular hematopoiesis, multipotent progenitors (myeloid-T-B progenitors) first lose the potential to generate B cells. Subsequently, myeloid potential is terminated and the progenitors become committed to the T cell lineage. Bcl11b is required for the myeloid-T progenitors to pass through this checkpoint. Bcl11b deficiency induces developmental arrest at the myeloid-T progenitor stage, and the arrested myeloid-T progenitors enter a self-renewal cycle.