Jul. 7, 2021 Perspectives Other
During the pandemic, RIKEN's artificial intelligence teams have been able to advance everything from travel advice to online medicine. Has COVID-19 unlocked Japan's big data doors?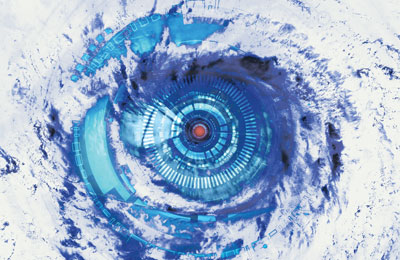 The old-fashioned sense of 'pulling together' that occurred during the SARS-CoV-2 crisis may in fact help reshape the trajectory of Japan's artificial intelligence (AI) research by opening the door to better data sharing.
For example, I believe the basis for progress toward a truly digital society in Japan will be an effective universal digital ID system. And indeed, in 2020, Japan's national digital ID system was the topic of much discussion. Twelve-digit, chipped 'My Number' cards have been available in Japan since 2016 and help manage social security, taxation and disaster-response information. However, uptake of the cards in Japan has been low and the system was plagued by problems when last year the government tried to distribute stimulus money through it to combat the effects of the pandemic.
In October 2020, Japanese Prime Minister Yoshihide Suga announced that his government would be creating a special agency devoted to digitization. Official statements followed about increasing My Number card uptake and expanding the system's uses, including to insurance, and to data on medication and medical costs via the government-run Mynaportal website.
Many AI researchers are cheering. For a number of years, it had been evident that while a focus on individual achievement has created some very successful scientific cultures, it has hindered widespread personal data sharing and the next big leaps forward in science.
AI researchers argue that big data drawn from digitized personal information—if shared in secure, ethical ways—will drive huge and important advances in everything from medical diagnostics to disaster management. That's not to say that some data privacy concerns aren't valid, but just that the advantages of a digitized, data-rich society may far outweigh the risks.
Powering through the pandemic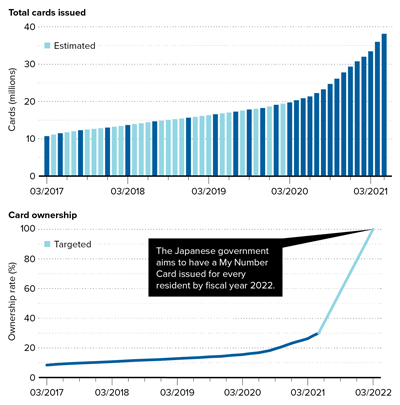 Big data, high-powered computing and artificial intelligence managed largely through the RIKEN Center for Advanced Intelligence Project (AIP) and the RIKEN Center for Computational Science (R-CCS) were key to how the scientific community in Japan addressed the pandemic, for example.
A number of RIKEN teams have designed and trained AI algorithms that do everything from visualizing the risks around travel routes and virus transmission to simulating individual infections and economic activity.
Many researchers are using a secure personal-data management technology developed in Japan, called the Personal Life Repository (PLR). PLR technology encrypts personal data in such a way that only the user can manage it, and only those whom the user explicitly permits can decrypt and add to a person's PLR. Even the cloud storage service providers involved in the system cannot decrypt PLR information. This type of system could improve on standard service provider supplied records, as it makes the information easy to locate and is likely to drive electronic record system development that is more universally transferable.
PLR records could, for example, eventually add much to the work of the Business and Economic Information Fusion Analysis Team at the AIP, who have begun to try to predict COVID-19 infection severity in Japan, especially among younger people. They are currently training their algorithms on legally secured data from health insurance claims and medical check-ups using new data-fusion techniques and statistical machine learning methods.
This will complement AI modeling work through the RIKEN Medical Sciences Innovation Hub Program, which is being used to develop a personalized prediction system for COVID-19 in collaboration with the Finnish Institute for Health and Welfare (THL) and MIT spinoff, BC-Platforms. Working with deep phenotyping based on information geometry, RIKEN has already developed algorithms that can help determine who is at risk of mortality and aggravation from COVID-19. Now the group will train these algorithms further using fresh THL clinical data. The THL data comes from up to 1,000 patients with positive COVID results drawn from their COVIDprog project, a study originally aiming to identify the individual characteristics, including underlying genetics, that affect COVID-19 outcomes. This information will be processed securely through BC-Platforms technology.
RIKEN-developed machine learning is also being used to help tailor online information delivery to an individual's traits to improve reductions in high-risk public-health behaviors. This project harnesses the results of various studies in preventive medicine and behavioral economics. Abusive language and disinformation related to the COVID-19 is also being tracked at RIKEN via natural language processing technology, so that interventions can be targeted at sources or during peaks.
Socially distanced science
During the pandemic, remote medical check-ups became preferable to many. As a result, the AIP's Science, Technology and Society Team is taking a fresh look at the classifications and the ELSI (Ethics, Legal and Social Issues) of online initial medical examinations in Japan.
To remotely support older adults in cognitive decline, the Cognitive Behavioral Assistive Technology Team at the AIP has continued to develop an AI-based communication and dialogue support system for use by aged-care and healthcare providers.
This RIKEN-developed AI uses images collected during the day by older or cognitively compromised adults to help prompt group discussion, conversational participation and active recall, which helps protect against dementia and further deterioration. The idea is that the AI helps the group maintain strict rules that balance listening and speaking. More recently, as group setting have become more limited, a chat bot system called the Text-oriented Artificial Chat Operation System (TACOS) was shown to be able to provide conversational support services for up to 40 solo users in real time.
Meanwhile, the AIP's Technology and Society Team is monitoring for the potential drawbacks of remote communication, particularly at work. The project has already surveyed 300+ people to investigate the impacts of telework and identify working styles that mitigate negative outcomes, such as a lack of delineation between work and home.
In addition, the Decentralized Big Data Team at the AIP are investigating formats and user interfaces that help people more precisely and efficiently read and write in digital environments, as the pandemic is deemed to have accelerated digitization. They are also looking into AI technologies that assist composition, comprehension and other advanced uses of digital documents.
Supported by robots
The COVID-19 outbreaks have also highlighted robotic technology's usefulness in facilitating social distancing. Robots, for example, are particularly promising prospects as carers to vulnerable populations, such as the elderly.
I lead the Guardian Robot Project, which is developing next-generation robots. The project, run through the RIKEN Information R&D and Strategy Headquarters and Innovation Hub, is developing a robot that can autonomously recognize its environment and the state of the person it is supposed to support. Five teams are using AI trained on data obtained from psychology, brain science and cognitive science to improve robotic knowledge acquisition and dialog, psychological processing, interactivity, multimodal data recognition, man–machine collaboration and behavior learning.
For example, the project will use cognitive modeling to build robotic software that helps provide adaptive and situationally responsive problem solving. It will also work to link sensors and actuators to these systems to facilitate high-level planning, prediction and reflection systems. The program is also working to develop the ability of its robots to understand natural language and to speak to their users.
Japan's AI future
Overall, digitally savvy populations initially fared well during the pandemic, which will be another driver of digitization in Japan. In Taiwan, for example, Audrey Tan, the minister in charge of digital affairs, launched a successful mobile site to prevent the hoarding of masks. South Korea, which has the highest penetration of smartphones in the world, also had initial success controlling the pandemic with very precise infection tracing technology. These examples, and others, have motivated many governments to re-examine their digital infrastructure.
In addition, the AI market is also set to boast a compound annual growth rate between 2018 and 2025 of anywhere between 33% to 55%, with Asia anticipated to overtake North America's number one spot in the global market by 2025. Japan is currently number one in the world as a supplier of industrial robots and third, after China and the USA, in AI R&D. Toshiba is Japan's highest AI patent contributor, claiming the world's third spot, right after IBM and Microsoft.
On top of all of this, more than 40% of Japan will be elderly by 2030. This puts pressure on the labor force and healthcare system, but it is also an incentive to develop AI-enhanced care and industrial robots. And while the pandemic has caused a slowdown in some sectors, it has also sparked AI-driven solutions and motivated faster digitalization.
Overall, the outlook seems stronger than ever for Japanese AI researchers, although there is much work to be done. One caution I will put forth is that if a generalized negative attitude about data sharing holds us back from collecting relevant information, countries with less individually oriented cultures may overtake us in key sectors such as AI healthcare, where careful, sensitive data input is crucial. Ethical considerations and data privacy are of course important and RIKEN adopts best-practice technology, but the level of data sharing within a population may simply boil down to a feeling of safety or personal preference. Nonetheless, we are also partnering with our neighbors on many projects, and are excited about where these collaborations will go.
About the Researcher
Michihiko Minoh, RIKEN Executive Director, Director of RIKEN Information R&D and Strategy Headquarters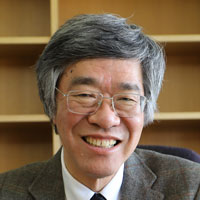 Michihiko Minoh is director of the RIKEN Information R&D and Strategy Headquarters (R-IH) and leads RIKEN's Guardian Robot Project as the part of R-IH. He became an Executive Director at RIKEN in April 2018. Previously he served as director of the Academic Center for Computing and Media Studies from 2006 to 2010 and concurrently served as vice director in the Kyoto University President's Office from 2008 to 2010. From 2010 to 2016, he was chief information officer and director-general at the Institute for Information Management and Communication at Kyoto University.