May 29, 2015 Research Highlight Biology
Growing eyes from stem cells
Embryonic stem cells give rise to three-dimensional, multilayered retinal tissue in a dish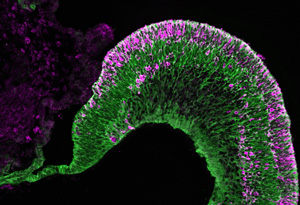 A RIKEN team has succeeded in developing a culture method that allows human embryonic stem cells to be efficiently and spontaneously grown into the many cell types found in the human retina1. The achievement brings scientists a step closer to growing the most complex component of the eye—the eye's neural tissue—and could enable doctors to repair damaged eyes with lab-grown retinal tissue.
Yoshiki Sasai, Mototsugu Eiraku and their colleagues from the RIKEN Center for Developmental Biology had previously shown that they could coax human and mouse embryonic stem cells to form retinal progenitors. After a few weeks in culture, these cells would spontaneously self-assemble into three-dimensional retinal tissue. Yet although the structure contained multiple layers of neural retinal cells, including both rod and cone photoreceptors, the long-term organization of these cells was not entirely clear.
The RIKEN team, collaborating with Sumitomo Chemical Company, refined and improved this culture technique through precisely timed treatment with a regulatory protein called BMP4. This improved method transforms human embryonic stem cells into retinal progenitors without the addition of extracellular matrix products required previously to promote retinal differentiation. This allows for a more controlled process that could be suitable for future clinical applications.
The researchers also developed a method to create the ciliary margin, which resides at the boundary between the neural retina and the retinal pigment epithelium. Their step-wise 'induction-reversal' culture method induces the formation of boundary tissue, which then self-organizes into ciliary margin tissue. Retinal stem cells residing in the ciliary margin generate new retinal tissue and help contribute to retinal tissue growth in the culture dish. This degree of cellular organization (Fig. 1) is the closest scientists have yet come to building self-growing retinal tissue from stem cells.
"Our results are consistent with the current view that the retinal pigment epithelium and neural retina are capable of 'fate transition', says Eiraku. "By examining retinal formation in culture, we hope to reveal the mechanisms involved in human retinal development."
The methods developed by Eiraku and his colleagues could one day be used to culture tissue that can be transplanted into a human retina damaged by conditions such as macular degeneration and retinitis pigmentosa, which lead to blindness. "The protocol developed here allows us to generate retinal tissue that closely resembles the biological retina with high efficiency and stability," notes lead author Atsushi Kuwahara. "It is a step closer to realizing regenerative medicine for retinal disorders."
References
1.

Kuwahara, A., Ozone, C., Nakano, T., Saito, K., Eiraku, M. & Sasai, Y. Generation of a ciliary margin-like stem cell niche from self-organizing human retinal tissue. Nature Communications 6, 6286 (2015). doi: 10.1038/ncomms7286