RIKEN Center for Sustainable Resource Science

Plant Chemical Genetics Research Team

Team Leader: Masanori Okamoto (D.Sc.)
Research Summary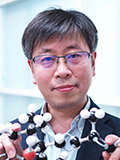 The Green Revolution in crops is an effective use of gene mutation that altered the gibberellin action of plant hormones. Bioactive small molecules including plant hormones exhibit various physiological actions and are involved in plant growth and adaptation to environmental stress. Further elucidation and utilization of plant hormone functions are necessary to develop crops that can grow with less environmental impact under global climate change. In addition, we also explore key genes for plant growth and environmental stress adaption and aim to improve food productivity by applying the scientific knowledge to practical crops.
Main Research Fields
Related Research Fields
Agricultural Sciences
Plant molecular biology/Plant physiology
Applied molecular and cellular biology
Science in genetics and breeding
Keywords
Plant hormones
Plant chemical biology
Environmental stress adaptation
Plant growth regulation
Plant molecular breeding
Selected Publications
Papers with an asterisk(*) are based on research conducted outside of RIKEN.
1.

*Vaidya, AS., Peterson, F.C., Eckhardt, J., Xing, Z., Park, S.Y., Dejonghe, W., Takeuchi, J., Pri-Tal, O., Faria, J., Elzinga, D., Volkman, B.F., Todoroki, Y., Mosquna, A., Okamoto, M., Cutler, S.R.:
"Click-to-lead design of a picomolar ABA receptor antagonist with potent activity in vivo."
Proc. Natl. Acad. Sci. USA. 118: e2108281118 (2021)

2.

*Takeuchi, J., Fukui, K., Seo, Y., Takaoka, Y., Okamoto, M.:
"Ligand–receptor interactions in plant hormone signaling.
Plant Journal, 105, 290–306 (2021)

3.

*Vaidya, A.S., Helander, J.D.M., Peterson, F.C., Elzinga, D., Dejonghe, W., Kaundal, A., Park, S.Y., Xing, Z., Mega, R., Takeuchi, J. Khanderahoo B. Bishay S. Volkman BF. Todoroki Y. Okamoto M. Cutler SR.:
"Dynamic control of plant water use using designed ABA receptor agonists."
Science 366: 6464 (2019)

4.

*Fujioka, H., Samejima, H., Suzuki, H., Mizutani, M., Okamoto, M., Sugimoto, Y.:
"Aberrant protein phosphatase 2C leads to abscisic acid insensitivity and high transpiration in parasitic Striga."
Nature Plants 5: 258-262 (2019)

5.

Mega, R., Abe, F., Kim, J.K., Tsuboi, Y., Tanaka, K., Kobayashi, H., Sakata, Y., Ha:nada, K., Tsujimoto, H., Kikuchi, J., Cutler, S.R., Okamoto, M.
"Tuning water use efficiency and drought tolerance using abscisic acid receptors."
Nature Plants 5: 153-159 (2019)

6.

Nakaminami, K., Okamoto, M., Higuchi-Takeuchi, M., Yoshizumi, T., Yamaguchi, Y., Fukao, Y., Shimizu, M., Ohashi, C., Tanaka, M., Matsui, M., Shinozaki, K., Seki, M., Hanada, K.:
"AtPep3 is a hormone-like peptide that plays a role in the salinity stress tolerance of plants."
Proc. Natl. Acad. Sci. USA. 115: 5810-5815 (2018)

7.

*Takeuchi, J., Mimura, N., Okamoto, M., Yajima, S., Sue, M., Akiyama, T., Monda, K., Iba, K., Ohnishi, T., Todoroki, Y.:
"Structure-Based Chemical Design of Abscisic Acid Antagonists That Block PYL-PP2C Receptor Interactions."
ACS Chemical Biology 13: 1313-1321 (2018)

8.

*Yan, D., Easwaran, V., Chau, V., Okamoto, M., Ierullo, M., Kimura, M., Endo, A., Yano, R., Pasha, A., Gong, Y., Bi, Y.M., Provart, N., Guttman, D., Krapp, A., Rothstein, S.J., Nambara, E.:
"NIN-like protein 8 is a master regulator of nitrate-promoted seed germination in Arabidopsis."
Nature Communications 7:13179 (2016)

9.

Takeuchi, J., Okamoto, M., Akiyama, T., Muto, T., Yamaji, S., Sue, M., Seo, M., Kanno, Y., Kamo, T., Endo, A., Nambara, E., Hirai, N., Ohnishi, T., Cutler, S.R., Todoroki, Y.:
"Designed abscisic acid analogues as antagonists of PYL-PP2C receptor interactions."
Nature Chemical Biology 10:477-482 (2014)

10.

*Okamoto, M., Peterson, F.C., Defries, A., Park, S.Y., Endo, A., Nambara, E., Volkman. B.F., Cutler, S.R.:
"Activation of dimeric ABA receptor elicits guard cell closure, ABA-regulated gene expression and drought tolerance."
Proc. Natl. Acad. Sci. USA 110: 12132-7 (2013)
Lab Members
Principal investigator
Masanori Okamoto

Team Leader
Contact Information
1-7-22 Suehiro-cho, Tsurumi-ku, Yokohama City, Kanagawa, 230-0045, Japan
Email: okamo [at] riken.jp