RIKEN Center for Integrative Medical Sciences

Laboratory for Cancer Invasion and Metastasis

Team Leader: Kohei Miyazono (M.D., Ph.D)
Research Summary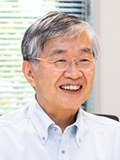 Elucidation of the mechanisms of cancer invasion and metastasis is crucial for understanding the mechanisms of progression of cancer. Our studies of TGF-β-induced epithelial-mesenchymal transition (EMT) have revealed that TGF-β plays important roles in cancer invasion and metastasis at multiple steps. We aim to analyze the molecular mechanism of these processes using new techniques such as single cell analysis, and to develop new therapeutic strategies. We have identified a cytokine receptor involved in the differentiation of glioblastoma-initiating cells. Since we have succeeded in developing an alpaca-derived antibody that regulates its function, research for clinical application will be pursued.
Main Research Fields
Medicine, Dentistry & Pharmacy
Related Research Fields
Chemistry
Biology
Tumor biology-related
Tumor diagnostics and therapeutics-related
Pathological biochemistry-related
Keywords
Invasion and metastasis
Cancer microenvironment
Molecular targeted therapy
Cancer and signal transduction
Characteristics of cancer cells
Selected Publications
Papers with an asterisk(*) are based on research conducted outside of RIKEN.
1.

*Tanabe R, Miyazono K, Todo T, Saito N, Iwata C, Komuro A, Sakai S, Raja E, Koinuma D, Morikawa M, Westermark B, and Heldin CH.
"PRRX1 induced by BMP signaling decreases tumorigenesis by epigenetically regulating glioma-initiating cell properties via DNA methyltransferase 3A."
Mol. Oncol. 16, 269-288 (2022). doi: 10.1002/1878-0261.13051.

2.

*Miyakuni K, Nishida J, Koinuma D, Nagae G, Aburatani H, Miyazono K, and Ehata S.
"Genome-wide analysis of DNA methylation identifies the apoptosis-related gene UQCRH as a tumor suppressor in renal cancer."
Mol. Oncol. 16, 732-749 (2022). doi: 10.1002/1878-0261.13040.

3.

*Ozawa T, Morikawa M, Morishita Y, Ogikubo K, Itoh F, Koinuma D, Nygren PÅ, and Miyazono K.
"Systemic administration of monovalent follistatin-like 3-Fc-fusion protein increases muscle mass in mice."
iScience 24, 102488 (2021). doi: 10.1016/j.isci.2021.102488.

4.

Takahashi K, Tanabe R, Ehata S, Kubota SI, Morishita Y, Ueda HR, and Miyazono K.
"Visualization of the cancer cell cycle by tissue-clearing technology using the Fucci reporter system."
Cancer Sci. 112, 3796-3809 (2021). doi: 10.1111/cas.15034.

5.

Kubota SI, Takahashi K, Mano T, Matsumoto K, Katsumata T, Shi S, Tainaka K, Ueda HR, Ehata S, and Miyazono K.
"Whole-organ analysis of TGF-β-mediated remodelling of the tumour microenvironment by tissue clearing."
Commun. Biol. 4, 294 (2021). doi: 10.1038/s42003-021-01786-y.

6.

*Takahashi K, Ehata S, Miyauchi K, Morishita Y, Miyazawa K, and Miyazono K.
"Neurotensin receptor 1 signaling promotes pancreatic cancer progression."
Mol. Oncol. 15, 151-166 (2021). doi: 10.1002/1878-0261.12815.

7.

*Nishida J, Momoi Y, Miyakuni K, Tamura Y, Takahashi K, Koinuma D, Miyazono K, and Ehata S.
"Epigenetic remodelling shapes inflammatory renal cancer and neutrophil-dependent metastasis."
Nat. Cell Biol. 22, 465-475 (2020). doi: 10.1038/s41556-020-0491-2.

8.

*Katsuno Y, Meyer DS, Zhang Z, Shokat KM, Akhurst RJ, Miyazono K, and Derynck R.
"Chronic TGF-β exposure drives stabilized EMT, tumor stemness, and cancer drug resistance with vulnerability to bitopic mTOR inhibition."
Sci. Signal. 12, eaau8544 (2019). doi: 10.1126/scisignal.aau8544.

9.

*Morikawa M, Mitani Y, Holmborn K, Kato T, Koinuma D, Maruyama J, Vasilaki E, Sawada H, Kobayashi M, Ozawa T, Morishita Y, Bessho Y, Maeda S, Ledin J, Aburatani H, Kageyama R, Maruyama K, Heldin CH, and Miyazono K.
"The ALK-1/SMAD/ATOH8 axis attenuates hypoxic responses and protects against the development of pulmonary arterial hypertension."
Sci. Signal. 12, eaay4430 (2019). doi: 10.1126/scisignal.aay4430.

10.

Kubota SI, Takahashi K, Nishida J, Morishita Y, Ehata S, Tainaka K, Miyazono K, and Ueda HR.
"Whole-body profiling of cancer metastasis with single-cell resolution."
Cell Rep. 20, 236-250 (2017). doi: 10.1016/j.celrep.2017.06.010.
Related Links
Lab Members
Principal investigator
Kohei Miyazono

Team Leader
Contact Information
RIKEN, 2-1 Hirosawa, Wako, Saitama 351-0198, JAPAN
Dept. of Applied Pathology, Graduate School of Medicine, The University of Tokyo
Hongo 7-3-1, Bunkyo-ku, Tokyo 113-0033 JAPAN
Email: kohei.miyazono [at] riken.jp