Order of Culture bestowed upon former RIKEN President ARIMA Akito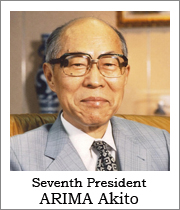 I am pleased to report that former RIKEN president and well-known nuclear physicist, Arima Akito will be awarded the Order of Culture, the Japanese government's top cultural award, in recognition of his invaluable contributions to the nation.
Dr. Arima served with great distinction and leadership as RIKEN president from October 1993 to May 1998. He later went on to became a Dietmember in the House of Councilors, and played a major role in advancing Japan's education and scholarship, science and technology, as Minister of Education, Science, Sports and Culture, and Director-General of the Science and Technology Agency. Dr. Arima is eminently deserving of the award and I would like to convey my best wishes for his continued wellbeing and endeavors.

Ryoji Noyori, RIKEN President