Hideki Hirayama wins Achievement Award at 43rd Ichimura Science Awards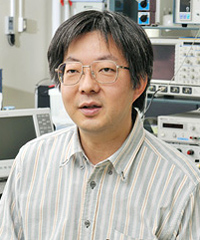 Dr. Hideki Hirayama has won an Achievement Award in the 43rd Ichimura Science Awards for his work on the development of high-quality AlGaN-based semiconductor crystals and advanced research on deep-UV LEDs. Dr. Hirayama is the leader of the Terahertz Quantum Device Team at RIKEN Advanced Science Insitute (ASI).
This prize is awarded to technological researchers or groups at universities or research institutions who have contributed to the development of their academic field and developed technology which can be put to practical use. This year there were two winners in the Achievement category and four in the Contribution category.
The recipients will make presentations on their individual research at the award ceremony to be held on April 28 in Tokyo. We offer our sincere congratulations to Dr. Hirayama on this honor.
Reference
New Technology Development Foundation website (Japanese only)
Comment from Dr. Hideki Hirayama
This award is related to my work developing deep-UV LEDs with double the energy of blue LEDs. Initially, the deep-UV LEDs were so inefficient that not even the tiniest speck of light was emitted, but I was able to improve them so that the LEDs had an output great enough to be put to practical use. Deep-UV light is a highly effective sterilizer, and in the future it will have a direct impact on various aspects of our lives, with high-power compact sterilizer lamps used in homes and for medical treatment.
We were successful in the very difficult task of growing AlGaN-based semiconductor crystals thanks to the efforts of very many people who devoted themselves entirely to the task, and I am very grateful to everyone who contributed to the progress of this research. I hope to continue to push the boundaries as the potential for application increases dramatically and I work towards the development of deep-UV laser diodes.