Group Director Katsumi Midorikawa wins Hattori Hoko Award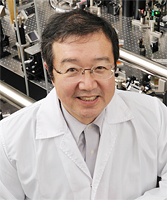 Dr. Katsumi Midorikawa has won the 2011 Hattori Hoko Award for his work on the development of intense coherent XUV light source by high-order harmonic generation.
Dr. Midorikawa is in the Extreme Photonics Department of the Extreme Photonics Research Group at the RIKEN Advanced Science Institute (ASI).
The Hattori Hoko Award is presented to individuals in recognition of their contribution to the field of engineering through original, expansive research. The award ceremony is to be held on October 7 at the Industry Club of Japan.
Comment from Dr. Midorikawa
I am greatly honored to be included among the illustrious recipients of this award which has a history of over 80 years. Since I started with research on lasers when I was a graduate student, my major goal has been to achieve laser radiation in the X-ray region and to measure nonlinear optical phenomena. I would like to thank RIKEN for providing me with the environment for my research and my laboratory colleagues for their support.
Reference