K computer Receives Recognition as Top Supercomputing Achievement with 2011 HPCwire Editors' Choice Award
The K computer, which is being jointly developed by RIKEN and Fujitsu, was awarded the HPCwire Editors' Choice Award in the Top Supercomputing Achievement category at SC11, the International Conference for High Performance Computing, Networking, Storage and Analysis taking place in Seattle.
The HPCwire awards were announced and presented during the 2011 Supercomputing Conference, and the results were published online.
HPCwire is the best-known and most-accessed news and information site covering the entire ecosystem of High Performance Computing (HPC). HPCwire is the publication of choice for the global community of business and technology professionals interested in computationally- and data-intensive computing, including infrastructure topics such as software, middleware, hardware, networking, storage, tools and applications.
"HPCwire readers are regarded as amongst the most discerning in the HPC community, and these awards represent which HPC-related companies are making the biggest impact each year within this populace," said Tom Tabor, publisher of HPCwire. "The HPCwire Readers' and Editors' Choice Awards send a succinct message to the recipients that their peers globally across the HPC community recognize their work, and consider their efforts exemplary. Our congratulations go out to all the winners."
The Annual HPCwire Readers' Choice Awards include "Readers' Choice" based on the results of online voting from readers, and "Editors' Choice" which are decided by the editors of HPCwire and key corporate figures. Both awards are highly evaluated in the field of HPC community.
The K computer was recently recognized for the second time as the world's most powerful supercomputer, rating at 10.51 petaflops on the Linpack benchmark.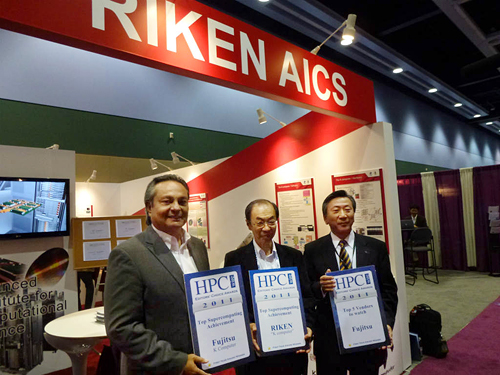 From the left, CEO of HPCwire Tom Tabor, Project Leader of RIKEN Next-Generation Supercomputer R&D Center Tadashi Watanabe and Corporate Senior Executive Vice President of Fujitsu Limited Kenji Ikegai.