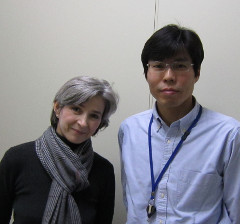 Dr. Kenya Honda, head of the Laboratory for Gut Homeostasis at the RIKEN Center for Integrative Medical Sciences, and Dr. Sidonia Fagarasan, head of the Laboratory for Mucosal Immunity at the same center, were chosen by the National Institute of Science and Technology Policy (NISTEP), an institute of the Ministry of Education, Culture, Sports, Science, and Technology (MEXT) as recipients of the NISTEP Researchers Award this year.
The pair were chosen for their work on the development of a methodology for elucidating the relationship between the microbes that inhabit our digestive track (gut flora) and immune function, based on the analysis of the genes contained within both humans and other organisms present in our bodies (metagenomics) and analysis of the metabolic products of cell function (metabolomics) using next-generation gene sequencers.
Through this integrated approach, they were able to gain a first understanding of the complex molecular and cellular mechanisms that regulate our digestive system's environment, creating the potential to find new avenues to treat a variety of illnesses such as allergic and inflammatory bowel diseases.
The NISTEP Researchers Award is presented at the end of each year by NISTEP in recognition of significant contributions in science and technology. In 2013, 9 teams and 10 individuals were selected in all the categories of this Award, based on NISTEP's own research and a survey of its network of specialists.