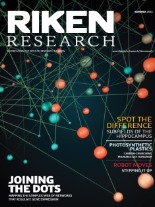 The latest printed edition of RIKEN Research, containing a selection of articles published on our website, has just come out. In our Perspectives and Places section, we highlight the RIKEN Center for Quantitative Biology, and Highlights feature research being carried out throughout our organization.
Readers may notice that it has a new look. As part of our move away from print and toward online media, we decided to issue the magazine four times a year, with more pages, and to give it a new look designed to make it feel a little more like a magazine and less like a report.
A PDF version of the magazine can be downloaded from the direct link to the pdf version.