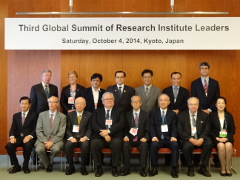 On October 4, leaders from scientific research institutes around the world gathered in Kyoto, Japan, for the Third Global Summit of Research Institute Leaders. The participants hailed from 15 organizations based in Australia, Canada, France, Germany, Indonesia, Japan, Russia, Singapore, South Africa, Taiwan, Thailand, and the United States.
The event began by presentations by President Ryoji Chubachi of the National Institute of Advanced Industrial Science and Technology (AIST) and Yuji Kamiya of RIKEN, the two organizations sponsoring the summit. The participants then discussed ways to nurture young researchers and to create a dynamic but sustainable research structure with a balance between permanent and fixed-term researchers within a global system. In a closing statement, they called upon their respective governments to cooperate in efforts to make it easier for researchers to move internationally and participate in international partnerships.
The summit was chaired by RIKEN President Ryoji Noyori and Alain Fuchs, president of the French National Center for Scientific Research (CNRS), and facilitated by Stefan Noreen, former Swedish Ambassador to Japan.