Forging ties with Luxembourg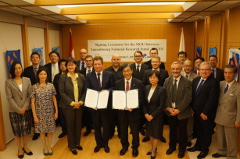 On October 7, representatives from RIKEN and the Luxembourg National Research Fund (FNR) gathered at the Luxembourg Embassy in Tokyo to sign a memorandum of understanding under which the two institutions pledged to work to encourage cooperation to promote science and technology between RIKEN and public research institutions in Luxembourg. The MOU covers all areas of science, with a special focus on immunology and systems biology.
In addition to the representatives from RIKEN and FNR, the ceremony was attended by Ambassador Béatrice Kirshch, researchers from Luxembourg, and a former ambassador.
The ceremony was held in conjunction with a visit by researchers from the Luxembourg Center for Systems Biomedicine, which already has a fruitful relationship with the RIKEN Center for Integrative Medical Science (IMS) and the Luxembourg Institute of Health, which is looking to create new ties with Japanese institutions. On October 8, the members of the two Luxembourg institutions were given a tour of the IMS facilities in Yokohama and held a mini workshop, where they discussed future research collaborations.