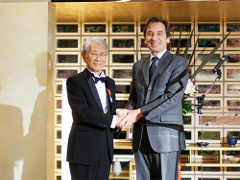 On December 18, RIKEN President Hiroshi Matsumoto was awarded the rank of Chevalier in the French Legion of Honor in recognition of his contributions to educational, academic, and scientific exchanges between Japan and France. In particular, the recognition was given for his work in the creation of an accord for the mutual recognition of academic degrees between the two countries, a task he accomplished while serving as the head of the Japan Association of National Universities.
The Légion d' honneur (Legion of Honour), which is France's highest award, was established in 1802 during the reign of Napoleon Bonaparte. It has been awarded to 1,500 non-French citizens, with approximately 10 percent being Japanese.
The award was presented by French ambassador Thierry Dana.
In response to the award, President Matsumoto said, "It is a great honor and one for which I owe much to my predecessors, including previous presidents of Kyoto University, the Japan Association of National Universities, and RIKEN. I will do my best to live up to the expectations implied by this great honor by continuing my activities to contribute to exchanges between Japan and France and around the world. In particular, I hope to focus my efforts during my tenure at RIKEN on exchanges that will contribute to solving the serious problems we face in areas such as the environment, resource depletion, and pandemic diseases."
The news was also reported on the embassy website.