Tatarstan President Minnikhanov visits Kobe Campus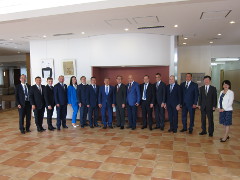 On October 7, Rustam Minnikhanov, President of the Republic of Tatarstan, visited the RIKEN Kobe campus, accompanied by a high-level delegation including Minister of Health Marat Sadykov, Kazan Federal University Rector Ilshat Gafurov, and others. Following a greeting by RIKEN Executive Director Shigeharu Kato, President Minnikhanov expressed his gratitude for the tour. The delegation were given a presentation on the RIKEN Center for Biosystems Dynamics Research (BDR) by Center Director Eisuke Nishida, followed by an introduction of regenerative medicine using iPS cells by Masayo Takahashi, a project leader at BDR. Dr. Takahashi then led the delegation on a tour of her laboratory, demonstrating the use of the Mahoro robotic cell manipulation system. President Minnikhanov expressed his admiration for Japanese technology.
Following the RIKEN visit, the delegation visited the Kobe mosque, which was built in 1935 thanks to donations from people including Tatar merchants, and were able to feel the depth of the historical relationship between the Republic of Tatarstan and Kobe.