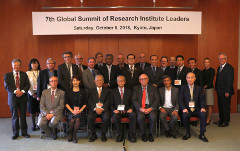 On October 6, leaders of 22 national research institutes from 11 countries—Australia, Canada, France, Germany, Indonesia, Japan, Korea, Singapore, Sweden, Thailand, and the United States—gathered in Kyoto for the Seventh Global Summit of Research Institute Leaders, which was held just before the start of the annual STS forum. The theme of the summit this year was "Interacting with Society: Tasks for Global Research Institutes." The meeting was organized by RIKEN and the Advanced Institute for Industrial Science and Technology (AIST), and co-chaired by RIKEN and the Leibniz Association.
This year, the participants heard two keynote presentations, one by Yumiko Kajiwara of Fujitsu, and the second by Ranga Yogeshwar, a science journalist from Germany, and carried on a discussion based on the presentations.
At the end of the summit, the leaders adopted a final statement that concluded by saying, "Facing skepticism toward science, we will encourage our researchers and scientists to actively engage with society, including industry and members of the public, to ensure they remain conscious of the importance of their research for society at large."
Past events have focused on global brain circulation, collaborations with academia, collaborations with industry, and the attainment of sustainable development.