Rwandan Minister for ICT and Innovation visits RIKEN
On January 7, Paula Ingabire, Minister for ICT (Information Communication Technology) and Innovation of the Republic of Rwanda, visited RIKEN's Tokyo Campus to discuss future collaborations.
RIKEN Executive Director Shigeo Koyasu gave her an introductory overview, and then Ingabire explained a project that has been launched to establish an innovation ecosystem that makes Rwanda a hub of research and development in sub-Saharan Africa. She mentioned that Rwanda is seeking opportunities to collaborate with RIKEN, especially in the fields of ICT or digital health care, in the near future. The participants then exchanged ideas about research collaborations and brain circulation between Rwanda and RIKEN.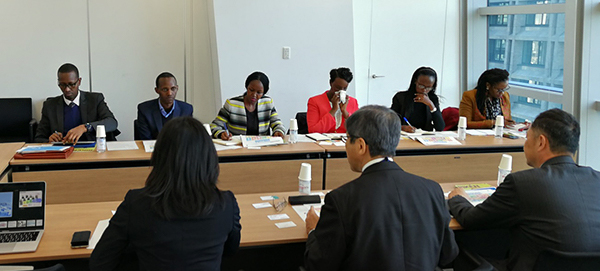 Discussion between Rwandan delegations and RIKEN representatives