Seventh RIKEN-Max Planck joint symposium on systems chemical biology
Researchers from RIKEN and the Max Planck Society in Germany gathered at Ringberg Castle in the Bavarian Alps to discuss issues in systems chemical biology. The meeting, held from September 15 to 18, was the seventh in a series of joint symposiums between the two organizations. The joint center between the two institutes is led by Herbert Waldmann, director of the Max Planck Institute of Molecular Physiology, Peter Seeberger, director of the Max Planck Institute of Colloids and Interfaces, Hiroyuki Osada, director of the RIKEN Center for Sustainable Resource Science's RIKEN-Max Planck Joint Research Division for Systems Chemical Biology, and Chief Scientist Katsunori Tanaka. The joint center's mission is to promote collaborations between the institutes in the area of systems chemical biology and to be a leading world center in that area.
Dr. Waldmann began the event on September 16 by going over the history of cooperation between the two countries and institutes and expressing his hopes for the future development of the partnership. Then, following a lecture by Dr. Osada, the participants engaged in discussions based on presentations from about 20 of the participants from each side.
According to Nobumoto Watanabe of the RIKEN Center for Sustainable Resource Science, one of the organizers of the event, "I am very hopeful that this symposium was useful for strengthening research in the area of chemical biology in each of our institutes."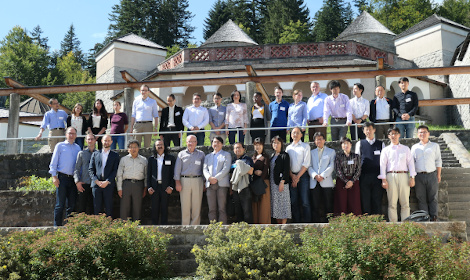 The participants in front of Ringberg Castle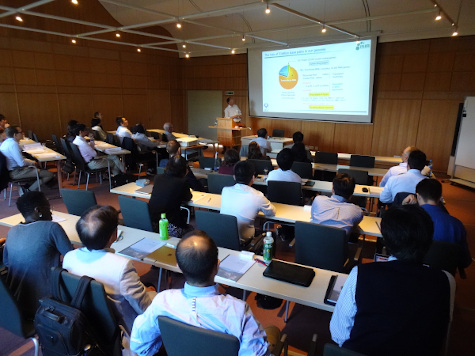 A lecture in the castle auditorium