Masayo Takahashi awarded rank of Chevalier in France's National Order of Merit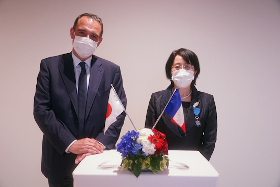 Masayo Takahashi, a visiting scientist at the RIKEN Center for Biosystems Dynamics Research(BDR), was awarded the rank of Chevalier dans l'Ordre national du Mérite (Knight of the French National Order of Merit). The honor was given for her "dynamic contribution to scientific cooperation between Japan and France," noting her collaboration with the Institut de la Vision in Paris. The National Order of Merit is, along with the Legion of Honor, one of the highest awards conferred by the French government.
While serving as Project Leader of the Laboratory for Retinal Regeneration at RIKEN BDR (and previously at the Center for Developmental Biology), Dr. Takahashi, an ophthalmologist, initiated the world's first clinical study using induced pluripotent stem cells.
The award was presented on June 18 by French Ambassador to Japan Philippe Seton, with Jules Irman, Consul General of the Consulate-General of France in Kyoto in attendance. Following the award ceremony, Ambassador Seton, Consul General Irman, and other members of the group were given a tour of the Laboratory for Retinal Regeneration at BDR.
Upon receiving the award, Dr. Takahashi said, "It was an unexpected honor to receive this award. The award was the result of our exchange with the Institut de la Vision in Paris, which served as a model for the Kobe Eye Center, which was established near BDR in Kobe. I would like to thank RIKEN and Kobe City for making our project a reality, as well as my team and the patients who brought us here."
Dr. Takahashi was also recently elected as an Associate Member of EMBO, the European Molecular Biology Organization.