Tenth Global Summit of Research Institute Leaders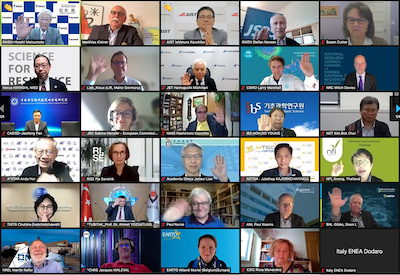 On October 2, leaders of national research institutes from around the world attended the Tenth Global Summit of Research Institute Leaders, which was held in conjunction with the Eighteenth Annual Meeting of STS forum, where they discussed the topic of "Contributing to Resilient Societies through Science and Technology." As in the previous year, the meeting was held online rather than in Kyoto due to the pandemic, with this year's topic continuing and expanding last year's discussion on the theme of multilateral collaboration during the COVID-19 pandemic.
Participants first heard ten-minute presentations on resilience and science from four distinguished speakers: Dr. Susan Cutter from the University of South Carolina, Dr. Haruo Hayashi from the National Research Institute for Earth Science and Disaster Resilience, Prof. Dr. Klaus Lieb from the Leibniz Institute for Resilience Research, and Dr. Michinari Hamaguchi from the Japan Science and Technology Agency. Following this, participants engaged in a lively discussion on what resilience requires and how public research institutions can contribute to readiness and response. In closing, they adopted a statement in which they resolved to explore new ways to coordinate research and data sharing across disciplines and national boundaries so that research and development can continue under trying conditions and contribute to global resilience.
The meeting was co-hosted by RIKEN and the National Institute of Advanced Industrial Science and Technology (AIST), co-chaired by President Hiroshi Matsumoto of RIKEN and President Matthias Kleiner of the Leibniz Association, and moderated by Stefan Noreen, former Swedish Ambassador to Japan. The participants came from 25 institutes from around the globe.