RIKEN and imec sign Memorandum of Cooperation
On November 9, RIKEN and imec signed a Memorandum of Cooperation pledging to explore R&D collaboration opportunities, and exchange knowledge through the organization of joint lectures, seminars and symposia.
RIKEN, as Japan's flagship national institute carrying out fundamental research, has the strength in basic research in a wide range of natural sciences and can conduct initial studies on industrial applications. In anticipation of its 5th Mid- to Long-Term Plan, which will cover the period from FY2025 to FY2031, RIKEN adopted an initiative called the Transformative Research Innovation Platform of RIKEN platforms (TRIP), an institute-wide cross-disciplinary project that was launched this fiscal year. It is a challenging project that aims to link RIKEN's cutting-edge research platforms—supercomputers, large synchrotron radiation facilities, bio-resource projects, etc. —to drive a pioneering digital transformation of research and provide an engine for social change. As a part of this initiative, it is developing the elemental technologies necessary for the development of next-generation semiconductors and pioneering the science of prediction in a wide range of fields, including life sciences, through AI and mathematics.
Imec, a world-leading research and innovation hub in nanoelectronics and digital technologies, headquartered in Leuven, Belgium, acts as a bridge between industry, government, and academia. Leveraging its state-of-the-art R&D infrastructure and its diverse team of top researchers, imec brings innovation to future applications ranging from advanced computing, health technologies to quantum computing through its silicon-based platforms.
By promoting collaborative research that leverages the strengths of both organizations, the two parties hope to contribute to the advancement of science and technology in their respective countries and benefit the global community.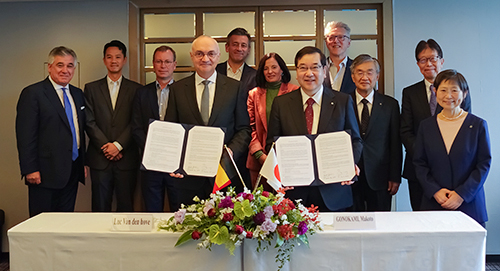 Photo: Imec President and CEO Luc Van den hove (front row left)
and RIKEN President Makoto Gonokami (right) at the signing ceremony