May 13, 2013 Press Release Biology Medicine / Disease
Gene associated with adolescent idiopathic scoliosis identified
Researchers from the RIKEN Center for Integrative Medical Sciences in Japan have identified the first gene to be associated with adolescent idiopathic scoliosis (also called AIS) across Asian and Caucasian populations. The gene is involved in the growth and development of the spine during childhood.
Their study is published today in the journal Nature Genetics.
AIS is the most common pediatric skeletal disease, affecting approximately 2% of school-age children. The causes of scoliosis remain largely unknown and brace treatment and surgery are the only treatment options. However, many clinical and genetic studies suggest a contribution of genetic factors.
To understand the causes and development of scoliosis, Dr Ikuyo Kou, Dr Shiro Ikegawa and their team have tried to identify genes that are associated with a susceptibility to develop the condition.
By studying the genome of 1,819 Japanese individuals suffering from scoliosis and comparing it to 25,939 Japanese individuals, the team identified a gene associated with a susceptibility to develop scoliosis on chromosome 6. The association was replicated in Han Chinese and Caucasian populations.
The researchers show that the susceptibility gene, GPR126, is highly expressed in cartilage and that suppression of this gene leads to delayed growth and bone tissue formation in the developing spine. GPR126 is also known to play a role in human height and trunk length.
"Our finding suggest the interesting possibility that GPR126 may affect both AIS susceptibility and height through abnormal spinal development and growth," explain the authors.
"Further functional studies are necessary to elucidate how alterations in GPR126 increase the risk of AIS in humans," they conclude.
Reference
Ikuyo Kou, Yohei Takahashi, Todd A Johnson, Atsushi Takahashi, Long Guo, Jin Dai, Xusheng Qiu, Swarkar Sharma, Aki Takimoto, Yoji Ogura, Hua Jiang, Huang Yan, Katsuki Kono, Noriaki Kawakami, Koki Uno, Manabu Ito, Shohei Minami, Haruhisa Yanagida, Hiroshi Taneichi, Naoya Hosono, Taichi Tsuji, Teppei Suzuki, Hideki Sudo, Toshiaki Kotani, Ikuho Yonezawa, Douglas Londono, Derek Gordon, John A. Herring, Kota Watanabe, Kazuhiro Chiba, Naoyuki Kamatani, Qing Jiang, Yuji Hiraki, Michiaki Kubo, Yoshiaki Toyama, Tatsuhiko Tsunoda, Carol A. Wise, Yong Qiu, Chisa Shukunami, Morio Matsumoto, and Shiro Ikegawa.
"Genetic variants in GPR126 are associated with adolescent idiopathic scoliosis"
Nature Genetics (2013)
Contact
Shiro Ikegawa
Laboratory for Bone and Joint Diseases
RIKEN Center for Integrative Medical Sciences

Shigeo Koyasu
RIKEN Center for Integrative Medical Sciences

Jens Wilkinson
RIKEN Global Relations and Research Coordination Office
Tel: +81-(0)48-462-1225 / Fax: +81-(0)48-463-3687
Email: pr@riken.jp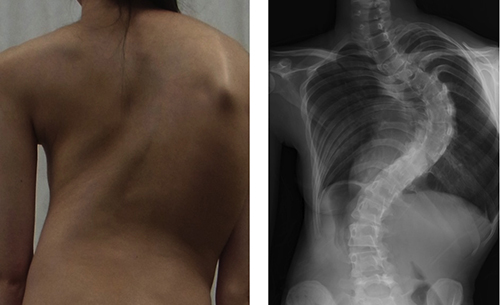 Girl with adolescent idiopathic scoliosis (left) and posterior-anterior standing x-ray of spine (right)