RIKEN Center for Biosystems Dynamics Research

Laboratory for Dynamic Structure of Biomolecules

Team Leader: Ichio Shimada (Ph.D.)
Research Summary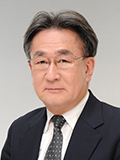 Membrane proteins play fundamental roles in many biological processes, and are recognized as principal target proteins for drug development. Over the past decade, our structural understanding of the membrane proteins has dramatically progressed, owing to the growing numbers of their atomic resolution crystal and cryo-EM structures. However, these structures basically represent static snapshots and observed conformations may not be the same as those in in-situ environment. In this research team, by using NMR, which provides us information about dynamical protein structures in solution, we will investigate the relationships between the dynamical structures and the functions for biologically important membrane proteins.
Main Research Fields
Medicine, Dentistry & Pharmacy
Related Research Fields
Biological Sciences
Biology
Physical pharmacy
Structural biochemistry
Biophysics
Keywords
Nuclear Magnetic Resonance
Biomolecules
Membrane Proteins
Dynamical Structures
Structural Equilibrium
Selected Publications
Papers with an asterisk(*) are based on research conducted outside of RIKEN.
1.

Kaneko S, Imai S, Asao N, Kofuku Y, Ueda T, Shimada I.:
"Activation mechanism of the μ-opioid receptor by an allosteric modulator"


Proc Natl Acad Sci U S A

. 119(16), e2121918119. (2022) doi: 10.1073/pnas.2121918119.

2.

Shiraishi Y, Kofuku Y, Ueda T, Pandey S, Dwivedi-Agnihotri H, Shukla AK, Shimada I.:
"Biphasic activation of β-arrestin 1 upon interaction with a GPCR revealed by methyl-TROSY NMR"


Nature Communnications

2(1), 7158. (2021) doi: 10.1038/s41467-021-27482-3.

3.

Iwahashi Y, Toyama Y, Imai S, Itoh H, Osawa M, Inoue M, Shimada I.:
"Conformational equilibrium shift underlies altered K+ channel gating as revealed by NMR"


Nature Communications

11, 5168 (2020) doi: 10.1038/s41467-020-19005-3

4.

Mizukoshi Y, Takeuchi K, Tokunaga Y, Matsuo H, Imai M, Fujisaki M, Kamoshida H, Takizawa T, Hanzawa H, Shimada I.:
"Targeting the cryptic sites: NMR-based strategy to improve protein druggability by controlling the conformational equilibrium"


Science Advances

6(40), eabd0480 (2020) doi: 10.1126/sciadv.abd0480

5.

Zhao Q, Fujimiya R, Kubo S, Marshall CB, Ikura M, Shimada I, Nishida N.:
"Real-Time In-Cell NMR Reveals the Intracellular Modulation of GTP-Bound Levels of RAS"


Cell Reports

32(8), 108074 (2020) doi: 10.1016/j.celrep.2020.108074

6.

* Mizumura T, Kondo K, Kurita M, Kofuku Y, Natsume M, Imai S, Shiraishi Y, Ueda T, and Shimada I*.:
"Activation of adenosine A2A receptor by lipids from docosahexaenoic acid revealed by NMR"


Sci. Adv

. (2020) doi: 10.1126/sciadv.eaay8544

7.

* Imai S, Yokomizo T, Kofuku Y, Shiraishi Y, Ueda T, and Shimada I*.:
"Structural equilibrium underlying ligand -dependent activation of

β

2 -adreno receptor."


Nat. Chem. Bio.

(2020) doi: 10.1038/s41589-019-0457-5.

8.

* Kano H, Toyama Y, Imai S, Iwahashi Y, Mase Y, Yokogawa M, Osawa M, and Shimada I*.:
"Structural mechanism underlying G protein family-specific regulation of G protein-gated inwardly rectifying potassium channel"


Nat. Commun.

10(1),2008. (2019)

9.

* Shimada I*, Ueda T, Kofuku Y, Matthew T. Eddy, and Kurt Wuthrich*.:
"GPCR drug discovery: integrating solution NMR data with crystal and cryo-EM structures."


Nat. Rev. Drug Discov.

18(1), 59-82 (2019)

10.

* Shiraishi Y, Natsume M, Kofuku Y, Imai S, Nakata K, Mizukoshi T, Ueda T, Iwai H, and Shimada I*.:
"Phosphorylation-induced conformation of

β

2-adrenoceptor related to the arrestin recruitment revealed by NMR"


Nat. Commun.

9(1):194 (2018). doi: 10.1038/s41467-017-02632-8
Recent Research Results
Related Links
Lab Members
Principal investigator
Ichio Shimada

Team Leader
Core members
Shunsuke Imai

Senior Scientist

Yutaro Shiraishi

Research Scientist

Yuki Toyama

Research Scientist

Satoko Tamura

Technical Staff I

Shun Kaneko

Junior Research Associate
Contact Information
Central Research Building C520
1-7-22 Suehiro-cho, Tsurumi-ku
Yokohama, Kanagawa
230-0045, Japan
Email: ichio.shimada [at] riken.jp