RIKEN BioResource Research Center (BRC®) Mouse Phenotype Analysis Division
Director: Masaru Tamura (Ph.D.)
Research Summary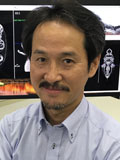 The Mouse Phenotype Analysis Division develops a systematic and comprehensive phenotyping platform consisting of more than 700 test items, based on the knowledge of pathogenesis of human diseases. Using this system, we perform more comprehensive and profound phenotyping of mouse mutants, which are and will be deposited to RIKEN BRC. We also develop Standard Operating Procedures (SOPs) of mouse phenotyping and exchange this information with attending the IMPC (International Mouse Phenotyping Consortium) projects for analyzing international public knockout mouse resources, and thereby we will contribute to international efforts for standardization of mouse phenotype data.
Main Research Fields
Related Research Fields
Bioresource
Disease model mouse
Experimental animal technology
Keywords
Mouse phenotype analysis
Behavioral analysis
Functional gene analysis
Development of phenotyping technology
Selected Publications
Papers with an asterisk(*) are based on research conducted outside of RIKEN.
1.

Watanabe C. Shibuya H. Ichiyama Y. Okamura E. Tsukiyama-Fujii S. Tsukiyama T. MatsumotoS. Matsushita J. Azami T. Kubota Y. Ohji M. Sugiyama F. Takahashi S. Mizuno S. Tamura M. Mizutani K. and Ema M.:
"Essential roles of Exocyst complex component 3-like 2 on cardiovascular development in mice."
Life 12, 1730 (2022).

2.

Birling MC. Yoshiki A. Adams D. Ayabe S. Beaudet AL. Bottomley J. Bradley A. Brown SDM. Bürger A. Bushell W. Chiani F. Christou S. Codner GF. DeMayo FJ. Dickinson ME. Doe B. Donahue LR. Fray MD. Gambadoro A. Gertsenstein M. Gomez-Segura A. Goodwin LO. Heaney JD. Hérault Y. Hrabé de Angelis M. Justice MJ. King RE. Kühn R. Lee H. Lee YJ. Lloyd KCK. Lorenzo I. Mallon AM. McKerlie C. Meehan TF. Nutter LMJ. Oh GT. Pavlovic G. Ramirez-Solis R. Rosen B. Ryder EJ. Santos LA. Schick J. Seavitt JR. Seong JK. Skarnes WC. Steel K. Tamura M. Tocchini-Valentini GP. Wang CKL. Wardle-jones H. Wattenhofer-donze M. Wells S. Willis BJ. Wood JA. Wurst W. The International Mouse Phenotyping Consortium. Teboul L. and Murray SA.:
"A resource of targeted mutant mouse lines for 5,061 genes."
Nature Genetics 53, 416–419 (2021).

3.

Matsumura K. Seiriki K. Okada S. Nagase M. Ayabe S. Yamada I. Furuse T. Shibuya H. Yasuda Y. Yamamori H. Fujimoto M. Nagayasu K. Yamamoto K. Kitagawa K. Miura H. Gotoda-Nishimura N. Igarashi H. Hayashida M. Baba M. Kondo M. Hasebe S. Ueshima K. Kasai A. Ago Y. Hayata-Takano A. Shintani N. Iguchi T. Sato M. Yamaguchi M. Tamura M. Wakana S. Yoshiki A. Watabe A. Okano H. Takuma K. Hashimoto R. Hashimoto H. and Nakazawa T.:
"Pathogenic POGZ mutation causes impaired cortical development and reversible autism-like phenotypes."
Nature Communications 11, 859 (2020)

4.

Haselimashhadi H. Mason J. Munoz-Fuentes V. Lopez-Gomez F. Babalola K. Acar E. Kuma V. White J. Flenniken A. King R. Straiton E. Seavitt JR. Gaspero A. Garza A. Christiansen A. Hsu CW. Reynolds C. Lanza D. Lorenzo I. Green J. Gallegos J. Bohat R. Samaco R. Veeraragavan S. Kim JK. Miller G. Fuchs H. Garrett L. Becker L. Kang YK. Clary D. Soo Y.,Tamura M. Tanaka N. Kyoung DS. Bezginov A. Bou About G. Champy MF. Vasseur L. Leblanc S. Meziane H. Selloum M. Reilly P. Spielmann N. Maier H. Gailus-Durner V. Sorg T. Masuya H. Obata Y. Heaney J. Dickinson M. Wurst W. Tocchini-Valentini G. Lloyd KCK. McKerlie C. Seong JK. Hérault Y. Hrabé de Angelis M. Brown S. Smedley D. Flicek P. Mallon AM. Parkinson H. and Meehan T.:
"Soft Windowing Application to Improve Analysis of High-throughput Phenotyping Data."
Bioinformatics, btz744 (2019).

5.

Kishimoto K. Tamura M. Nishita M. Minami Y. Yamaoka A. Abe T. Shigeta M. and Morimoto M.:
"Synchronized mesenchymal cell polarization and differentiation shape the formation of the murine trachea and esophagus."
Nature Communications 9, 2816 (2018).

6.

Meehan, TF. et al. and The International Mouse Phenotyping Consortium (IMPC).:
"Disease Model Discovery from 3,328 Gene Knockouts by The International Mouse Phenotyping Consortium."
Nature Genetics 49, 1231-1238 (2017).

7.

Dickinson ME. Flenniken AM. Ji X. Teboul L. Wong MD. White JK. Meehan TF. Weninger WJ. Westerberg H. Adissu H. Baker CN. Bower L. Brown JM. Caddle LB. Chiani F. Clary D. Cleak J. Daly MJ. Denegre JM. Doe B. Edie SM. Fuchs H. Gailus-Durner V. Galli A. Gambadaro A. Gallegos J. Guo S. Horner NR. Hsu Cw. Johnson SJ. Kalaga S. Keith LC. Lanoue L. Lawson TN. Lek M. Mark M. Marschall S. Mason J. McElwee ML. Newbigging S. Nutter LMJ. Peterson KA. Ramirez-Solis R. Rowland DJ. Ryder E. Samocha KE. Seavitt JR. Selloum M. Szoke-Kovacs Z. Tamura M. Trainor AG. Tudose I. Wakana S. Warren J. Wendling O. West DB. Wong L. Yoshiki A. The International Mouse Phenotyping Consortium, MacArthur DG. Tocchini-Valentini GP. Gao X. Flicek P. Justice M. Parkinson HE. Moore M. Wells S. Braun RE. Svenson K. Hrabé de Angelis M. Herault Y. Mohun T. Mallon AM. Henkelman RM. Brown SD. Adams D. Lloyd KCK. McKerlie C. Beaudet AL. Bucan M. and Murray SA.:
"High-throughput discovery of novel developmental phenotypes."
Nature 537, 508-514 (2016).

8.

Tamura M. and Shiroishi T.:
"GSDM family genes meet autophagy."
Biochemical Journal 469, e5-e7 (2015).

9.

Tamura M. Amano T. and Shiroishi T.:
"The Hand2 gene dosage effect in developmental defects and human congenital disorders."
Current Topics in Developmental Biology110, 129-152 (2014).

10.

*Tamura M. Hosoya M. Fujita M. Iida T. Amano T. Maeno A. Kataoka T. Otsuka T. Tanaka S, Tomizawa S. and Shiroishi T.:
"Over-dosage of Hand2 causes limb and heart defects in human chromosomal disorder, partial trisomy distal 4q."
Human Molecular Genetics 22, 2471-2481 (2013).
Recent Research Results
Events
Related Links
Lab Members
Principal investigator
Masaru Tamura

Director
Core members
Tamio Furuse

Senior Scientist

Hirotoshi Shibuya

Research & Development Scientist

Ikuo Miura

Technical Scientist

Ikuko Yamada

Technical Scientist

Ryo Kominami

Research Consultant

Tomoko Kushida

Technical Staff II

Kyoko Ikeda

Technical Staff II

Ai Ozaki

Technical Staff II

Akiko Shinogi

Technical Staff II

Yasuyo Kozawa

Technical Staff II

Mao Ozaki

Technical Staff II

Shundan Jin

Technical Staff II

Tomona Oikawa

Technical Staff II
Contact Information
3-1-1 Koyadai
Tsukuba, Ibaraki
305-0074 Japan
Email: masaru.tamura [at] riken.jp