RIKEN Center for Brain Science

Dementia Pathophysiology Collaboration Unit

Unit Leader: Hiroki Sasaguri (M.D., Ph.D)
Research Summary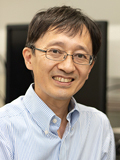 Neurons, an integral component in the human brain function, decline as a natural process of aging. In contrast, particular neurons degenerate earlier in neurodegenerative diseases such as Alzheimer's disease compared to normal aging leading to a range of neurological symptoms. We aim to identify and elucidate novel pathogenic mechanisms and establish biomarkers to develop therapeutic targets through generation and characterization of relevant animal models including non-human primates. Our lab specializes in behavioral and pathological phenotyping of rodents and NHPs. Through these analyses of animal models of neurodegenerative diseases, we also try to elucidate processes of normal brain aging.
Main Research Fields
Medicine, Dentistry & Pharmacy
Related Research Fields
Biological Sciences
Biology
Pathophysiologic neuroscience
Neuroscience-general
Molecular biology
Keywords
Dementia
Alzheimer's disease
Neurodegenerative diseases
Animal models
Healthy aging
Selected Publications
Papers with an asterisk(*) are based on research conducted outside of RIKEN.
1.

Watamura N, Sato K, Shiihashi G, Iwasaki A, Kamano N, Takahashi M, Sekiguchi M, Mihira N, Fujioka R, Nagata K, Hashimoto S, Saito T, Ohshima T, Saido TC, Sasaguri H.:
"An isogenic panel of

App

knock-in mouse models: Profiling β-secretase inhibition and endosomal abnormalities"
Science Advances. 8(23):eabm6155. (2022)

2.

Sasaguri H, Hashimoto S, Watamura N, Sato K, Takamura R, Nagata K, Tsubuki S, Ohshima T, Yoshiki A, Sato K, Kumita W, Sasaki E, Kitazume S, Nilsson P, Winblad B, Saito T, Iwata N, Saido TC.:
"Recent Advances in the Modeling of Alzheimer's Disease"
Frontiers in Neuroscience. 16:807473. (2022)

3.

Sato K, Watamura N, Fujioka R, Mihira N, Sekiguchi M, Nagata K, Ohshima T, Saito T, Saido TC, Sasaguri H.:
"A third-generation mouse model of Alzheimer's disease shows early and increased cored plaque pathology composed of wild-type human amyloid β peptide"
Journal of Biological Chemistry. 297(3):101004. (2021)

4.

Sato K, Sasaguri H (co-first author), Kumita W, Inoue T, Kurotaki Y, Nagata K, Mihira N, Sato K, Sakuma T, Yamamoto T, Tagami M, Manabe R, Ozaki K, Okazaki Y, Saido TC, Sasaki E.:
"A non-human primate model of familial Alzheimer's disease"
bioRxiv. doi: 10.1101/2020.08.24.264259. (2020)

5.

Sasaguri H, Nagata K, Sekiguchi M, Fujioka R, Matsuba Y, Hashimoto S, Sato K, Kurup D, Yokota T, Saido TC.:
"Introduction of pathogenic mutations into the mouse Psen1 gene by Base Editor and Target-AID"
Nature Communications. 9(1):2892. (2018)

6.

Sasaguri H, Nilsson P, Hashimoto S, Nagata K, Saito T, De Strooper B, Hardy J, Vassar R, Winblad B, Saido TC.:
"APP mouse models for Alzheimer's disease preclinical studies"
EMBO Joural. 36(17):2473-2487. (2017)

7.

*Sasaguri H, Chew J, Xu YF, Gendron TF, Garrett A, Lee CW, Jansen-West K, Bauer PO, Perkerson EA, Tong J, Stetler C, Zhang YJ.:
"The extreme N-terminus of TDP-43 mediates the cytoplasmic aggregation of TDP-43 and associated toxicity in vivo"
Brain Research. 1647:57-64. (2016)

8.

*Zhang YJ, Gendron TF, Grima JC, Sasaguri H, Jansen-West K, Xu YF, Katzman RB, Gass J, Murray ME, Shinohara M, Lin WL, Garrett A, Stankowski JN, Daughrity L, Tong J, Perkerson EA, Yue M, Chew J, Castanedes-Casey M, Kurti A, Wang ZS, Liesinger AM, Baker JD, Jiang J, Lagier-Tourenne C, Edbauer D, Cleveland DW, Rademakers R, Boylan KB, Bu G, Link CD, Dickey CA, Rothstein JD, Dickson DW, Fryer JD, Petrucelli L.:
"C9ORF72 poly(GA) aggregates sequester and impair HR23 and nucleocytoplasmic transport proteins"
Nature Neuroscience. 19(5):668-677. (2016)

9.

*Chew J, Gendron TF, Prudencio M, Sasaguri H, Zhang YJ, Castanedes-Casey M, Lee CW, Jansen-West K, Kurti A, Murray ME, Bieniek KF, Bauer PO, Whitelaw EC, Rousseau L, Stankowski JN, Stetler C, Daughrity LM, Perkerson EA, Desaro P, Johnston A, Overstreet K, Edbauer D, Rademakers R, Boylan KB, Dickson DW, Fryer JD, Petrucelli L.:
"Neurodegeneration. C9ORF72 repeat expansions in mice cause TDP-43 pathology, neuronal loss, and behavioral deficits"
Science. 348(6239):1151-4. (2015)

10.

*Uchida A, Sasaguri H, Kimura N, Tajiri M, Ohkubo T, Ono F, Sakaue F, Kanai K, Hirai T, Sano T, Shibuya K, Kobayashi M, Yamamoto M, Yokota S, Kubodera T, Tomori M, Sakaki K, Enomoto M, Hirai Y, Kumagai J, Yasutomi Y, Mochizuki H, Kuwabara S, Uchihara T, Mizusawa H, Yokota T.:
"Non-human primate model of amyotrophic lateral sclerosis with cytoplasmic mislocalization of TDP-43"
Brain. 135(Pt 3):833-46. (2012)
Lab Members
Principal investigator
Hiroki Sasaguri

Unit Leader
Contact Information
Brain Science Central Building
2-1 Hirosawa, Wako, Saitama 351-0198, Japan
hiroki.sasaguri [at] riken.jp