RIKEN Center for Brain Science

Support Unit for Functional Magnetic Resonance Imaging

Unit Leader: Hiroyuki Kamiguchi (M.D., Ph.D.)
Research Summary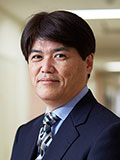 Equipped with a 3-Tesla MRI system, this unit supports non-invasive functional MRI (fMRI) studies on human subjects and anatomical scans on animals conducted by laboratories within RIKEN. Besides fMRI studies, we also have the capability to perform DTI, MRA, MRS, and simultaneous EEG/fMRI measurements. We have installed a number of peripheral devices for fMRI studies, such as stimulus presentation devices (video projectors, an LCD display, headphones, an electrical stimulation device, etc), to meet researchers' various needs for experiments. Subject condition (heartbeat, respiration, eye movement, pupil size, EMG, button press response, etc), stimulus timing, and the shape of gradient pulses can be recorded together with the acquisition trigger timing signal, enabling this information to be used for post-processing and analysis of the MRI data. We have unique, in-house developed pulse sequences, data analyzing processes and peripheral equipment. Multi-shot EPI for high spatial resolution imaging, software for regressing out noises due to respiration and cardiac pulsation, and a bite-bar system for minimizing subject motion are all available for users. We have put special emphasis on developing software to process k-space (raw) data so that we are not limited by the vendor's processing stream, which is optimized for clinical applications rather than research. We have developed software for reconstruction, noise reduction, and visualization of data in variety of formats. Using these cutting-edge technologies, users can perform many types of experiments and optimally process the data according to their needs.
For companies and researchers outside of RIKEN
For researchers from outside RIKEN, MRI experiments can be performed as Commissioned tests.
For more details, please refer to the following website:
Commissioned tests (only available in Japanese).
Keywords
Functional magnetic resonance imaging
Noninvasive measurement of brain functions
Related Links
Lab Members
Principal investigator
Hiroyuki Kamiguchi

Unit Leader
Core members
R. Allen Waggoner

Senior Technical Scientist

Ken-ichi Ueno

Technical Scientist

Chisato Suzuki

Technical Scientist
Careers
Contact Information
2-1 Hirosawa, Wako, Saitama 351-0198, Japan
Email: fmri [at] riken.jp