RIKEN Center for Brain Science

Computational Group Dynamics Collaboration Unit

Unit Leader: Wataru Toyokawa (Ph.D.)
Research Summary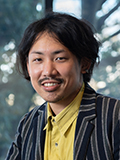 The collective-level behavioural phenomena in human societies, such as collective intelligence through coordination or the tragedy of commons through free-riding, are formed by states and behaviour of individuals. At the same time, individual behaviour and belief are influenced by the states and dynamics at the group level. To disentangle these interwoven problems, we use both theoretical modelling and behavioural experimentations, trying to take a step towards understanding the coevolutionary processes between human behaviour, societies, and cultures.
Main Research Fields
Related Research Fields
Keywords
Group decision making
Collective intelligence
Social learning
Cultural evolution
Computational modelling
Selected Publications
Papers with an asterisk(*) are based on research conducted outside of RIKEN.
Events
Related Links
Lab Members
Principal investigator
Wataru Toyokawa

Unit Leader
Contact Information
Universitätstr. 10, 78464 Konstanz, Germany
Email: wataru.toyokawa [at] riken.jp