RIKEN Center for Sustainable Resource Science

Catalysis and Integrated Research Group

Group Director: Mikiko Sodeoka (D.Phar.)
Research Summary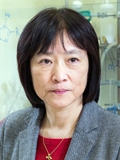 Our group focuses on the development of new transition metal-catalyzed reactions and exploitation of functions of the reaction products, and on conducting integrated research of plant science and chemistry with emphasis on sustainable resource science. In particular, we aim at developing methodologies for manipulation and/or modulation of structures and functions of organic molecules by catalytic oxidation reactions utilizing molecular oxygen, which will contribute to the effective utilization of carbon- and metal-based resources. In addition, investigation on the transformations of readily accessible natural organic molecules into valuable materials based on fine synthetic organic chemistry, as well as on the effective utilization of materials synthesized by newly developed reactions or from secondary metabolites of plants are of interest. In particular, we are studying various aspects of secondary metabolites of plants, whose effects on plants and animals have not been well clarified. Furthermore, this group will also contribute to enhance the collaboration between plant/microbiology research and chemical research activities inside CSRS.
Main Research Fields
Related Research Fields
Biological Sciences
Medicine, Dentistry & Pharmacy
Keywords
bioactive molecule
catalytic reaction
fluorine-containing molecule
Selected Publications
1.

Wang, Q., Kuramoto, Y., Okazaki, Y., Ota, E., Morita, M., Hirai, G., Saito, K., and Sodeoka, M.:
"Synthesis of Polyunsaturated Fatty Acid-Containing Glucuronosyl-diacylglycerol through Direct Glycosylation"
Tetrahedron. Lett. 58, 2915-2918 (2017).

2.

Ueda, M., Egoshi, S., Dodo, K., Ishimaru, Y., Yamakoshi, H., Nakano, T., Takaoka, Y., Tsukiji, S., and Sodeoka, M.:
"Noncanonical Function of a Small-Molecular Virulence Factor Coronatine against Plant Immunity: An In Vivo Raman Imaging Approach "
ACS Central Science 3, 462-472 (2017).

3.

Sohtome, Y., Nakamura, G., Muranaka, A., Hashizume, D., Lectard, S., Tsuchimoto, T., Uchiyama, M., and Sodeoka, M.:
"Naked d-orbital in a centrochiral Ni(II) complex as a catalyst for asymmetric [3+2] cycloaddition "
Nature Comm. 8, 14875 (2017).

4.

Pünner, F., Sohtome Y., and Sodeoka, M.:
"Solvent-Dependent Copper-Catalyzed Synthesis of Pyrazoles Under Aerobic Conditions"
Chem. Commun. 52, 14093-14096 (2016).

5.

Sun, X., Hirai, G., Ueki, M., Hirota, H., Wang, Q., Hongo, Y., Nakamura, T., Hitora, Y., Takahashi, H., Sodeoka, M., Osada, H., Hamamoto, M., Yoshida, M., and Yashiroda, Y.:
"Identification of novel secreted fatty acids that regulate nitrogen catabolite repression in fission yeast"
Sci. Rep. 6, 20856 (2016).

6.

Kawamura, S., and Sodeoka, M.:
"Perfluoroalkylation of Unactivated Alkenes with Acid Anhydrides as the Perfluoroalkyl Source"
Angew. Chem. Int. Ed. 55, 8740-8743 (2016).

7.

Kawamura, S., Egami, H., and Sodeoka, M.:
"Aminotrifluoromethylation of Olefins via Cyclic Amine Formation: Its Mechanistic Study and Application to Synthesis of Trifluoromethylated Pyrrolidines"
J. Am. Chem. Soc. 137, 4865-4873 (2015).

8.

Egami, H. and Sodeoka, M.:
"Recent Progress on Trifluoromethylation of Alkenes with Concomitant Introduction of Additional Functional Groups"
Angew. Chem. Int. Ed. 53, 8294-8308 (2014).

9.

Ozawa, M., Morita, M., Hirai, G., Tamura, S., Kawai, M., Tsuchiya, A., Oonuma, K., Maruoka, K. and Sodeoka, M.:
"Contribution of Cage-Shaped Structure of Physalins to Their Mode of Action in Inhibition of NF-κB Action"
ACS Med. Chem. Lett. 4, 730-735 (2013).

10.

Egami, H., Shimizu, R., Kawamura, S., and Sodeoka, M.:
"Alkene Trifluoromethylation Coupled with C-C Bond Formation: Construction of Trifluoromethylated Carbocycles and Heterocycles"
Angew. Chem. Int. Ed. 52, 4000-4003 (2013).
Recent Research Results
Related Links
Lab Members
Principal investigator
Mikiko Sodeoka

Group Director
Core members
Kosuke Dodo

Senior Research Scientist

Yoshihiro Sohtome

Senior Research Scientist

Shintaro Kawamura

Research Scientist

Tetsuya Ezawa

Postdoctoral Researcher

Subrata Mukherjee

Postdoctoral Researcher

Naoki Terayama

Technical Staff I

Kana Onuma

Technical Staff I
Contact Information
S601 Chemistry and Materials Physics Building
2-1 Hirosawa, Wako, Saitama 351-0198, Japan
Email: sodeoka [at] riken.jp