RIKEN Center for Sustainable Resource Science

Environmental Metabolic Analysis Research Team

Team Leader: Jun Kikuchi (Ph.D.)
Research Summary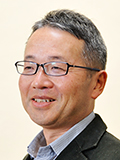 Our team intends to develop novel environmental analysis such as by a bird's-eye view of metabolism caused by ecosystem biodiversity, based on technical advancements of our NMR approaches toward metabolite and biomass mixtures, as well as inorganic elements and microbial ecosystem analyses combined with bioinformatics and chemoinformatics approaches. Namely, we promote both international and industrial collaboration in order to contribute for effective utilization of chemical resources, by analyzing laboratory systems, industrial (agriculture, forestry, and fishery) process, and natural environment (hydrosphere and geosphere, as well as outer space).
Main Research Fields
Related Research Fields
Chemistry
Agricultural Sciences
Informatics
Environmental Science
Interdisciplinary Science & Engineering
Mathematical & Physical Sciences
Biological Sciences
Life Sciences
Environmental Analysis & Modeling
Aquatic Ecosystem
Keywords
Environmental analysis
Data science
Magnetic resonance
Symbiosis
Homeostasis
Selected Publications
1.

Ito, K., Xu, X. and Kikuchi, J.*
"Improved Prediction of Carbonless NMR Spectra by the Machine Learning of Theoretical and Fragment Descriptors for Environmental Mixture Analysis"


Anal. Chem

. 93, 6901-6906 (2021).

2.

Kikuchi, J.* and Yamada, S.
"The exposome paradigm to predict environmental health in terms of systemic homeostasis and resource balance based on NMR data science"


RSC Adv

. 11, 30426-30447 (2021).

3.

Ichihashi, Y.*, Date, Y., Shino, A., Shimizu, T., Shibata, A., Kumaishi, K., Funahashi, F., Wakayama, K., Yamazaki, K., Um,ezawa, A., Sato, T., Kobayashi, M., Kamimura, M., Kusano, M., Che, F.-S., O'Brien, M., Tanoi, K., Hayashi, M., Nakamura, R., Shirasu, K., Kikuchi, J. and Nihei, N.
"Multi-omics analysis on an agroecosystem reveals the significant role of organic nitrogen to increase agricultural crop yield"


Proc. Natl. Acad. Sci. USA

117, 14552-14560 (2020).

4.

Mega, R., Abe, F., Kim, J.-S., Tsuboi, Y., Tanaka, K., Kobayashi, H., Sakata, Y., Hanada, K., Tsujimoto, H., Kikuchi, J., Cutler, S. R. and Okamoto, M.*
"Tuning water use efficiency and drought tolerance in wheat using ABA receptors"


Nature Plants

5, 153-159 (2019).

5.

Ito, K., Obuchi, Y., Chikayama, E., Date, Y. and Kikuchi, J.*
"Exploratory machine-learned theoretical chemical shifts can closely predict metabolic mixture signals"


Chem. Sci

. 9, 8213-8220 (2018).

6.

Date, Y.* and Kikuchi, J.*
"Application of a deep neural network to metabolomics studies and its performance in determining important variables"


Anal. Chem

. 90, 1805-1810 (2018).

7.

Oita, A., Oshima, T., Tsuboi, Y., Moriya, S., Date, Y. and Kikuchi, J.*
"Profiling physicochemical and planktonic features from discretely/continuously sampled surface water"


Sci. Total Environ

. 636, 12-19 (2018).

8.

Komatsu, T., Ohishi, R., Shino, A. and Kikuchi, J.*
"Structure and metabolic flow analysis of molecular complexity in 13C-labeled tree by 2D and 3D-NMR"


Angew. Chem. Int. Ed

. 55, 6000-6003 (2016).

9.

Furusawa, Y., Obata, Y., Fukuda, S.*, Endo, T., Nakato, G., Takahashi, D., Nakanishi, Y., Uetake, C., Kato, K., Kato, T., Takahashi, M., Fukuda, N., Murakami, S., Miyauchi, E., Hino, S., Atarashi, K., Onawa, S., Fujimura, Y., Lockett, T., Clarke, J. M., Topping, D. L., Tomita, M., Hori, S., Ohara, O., Morita, T., Koseki, H., Kikuchi, J., Honda, K., Hase, K.* and Ohno, H.
"Commensal microbe-derived butyrate induces colonic regulatory T cells"


Nature

504, 446-450 (2013).

10.

Fukuda, S., Toh, H., Hase, K., Nakanishi, Y., Oshima, K., Yoshimura, K., Tobe, T., Clarke, J. M., Topping, D. L., Suzuki, T., Taylor, T. D., Itoh, K., Kikuchi, J., Morita, H., Hattori, M.* and Ohno, H.*
"Bifidobacteria protect from enteropathogenic infection through production of acetate"


Nature

469, 543-547 (2011).
Recent Research Results
Events
Related Links
Lab Members
Principal investigator
Jun Kikuchi

Team Leader
Core members
Kenichi Akagi

Research Scientist

Hideaki Shima

Research Scientist

Daiki Yokoyama

Postdoctoral Researcher

Shunji Yamada

Postdoctoral Researcher

Tatsunori Yagi

Postdoctoral Researcher

Yuuri Tsuboi

Technical Staff I

kenji Sakata

Technical Staff I

Tomoko Matsumoto

Technical Staff II
Contact Information
1-7-22 Suehiro-cho, Tsurumi-ku, Yokohama City, Kanagawa, 230-0045, Japan
Tel: +81-(0)45-508-7549
Email: ikenoa [at] riken.jp