RIKEN Center for Integrative Medical Sciences

Laboratory for Metabolic Networks

Team Leader: Toshimori Kitami (Ph.D.)
Research Summary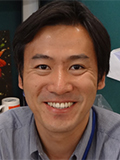 The overarching goal of our laboratory is to understand the role of cellular metabolism in the pathogenesis of complex diseases. Research over the past decades has shown that monogenic mutations in metabolic pathways cause a wide variety of human diseases. However, more recent studies have highlighted the role of cellular metabolism in the development of complex human diseases. Our laboratory in particular has been studying the function of mitochondrial energy metabolism, which is associated with neurodegeneration, cardiovascular disease, type 2 diabetes, and aging. We hope to identify novel pathways that restore or improve mitochondrial function through genetic and chemical screens and to examine their potential therapeutic value using genetically engineered mouse models and unique chemical probes.
Main Research Fields
Chemistry
Medicine, Dentistry & Pharmacy
Related Research Fields
Complex Systems
Chemical biology
Cell biology
Keywords
Mitochondria
High-throughput screening
Metabolism
Systems biology
Selected Publications
Papers with an asterisk(*) are based on research conducted outside of RIKEN.
1.

Mencke P, Boussaad I, Romano CD, Kitami T, Linster CL, Krüger R.:
"The role of DJ-1 in cellular metabolism and pathophysiological implications for Parkinson's disease."
Cells. 10(2):347 (2021)

2.

Kitami T, Fukuda S, Kato T, Yamaguti K, Nakatomi Y, Yamano E, Kataoka Y, Mizuno K, Tsuboi Y, Kogo Y, Suzuki H, Itoh M, Morioka MS, Kawaji H, Koseki H, Kikuchi J, Hayashizaki Y, Ohno H, Kuratsune H, Watanabe Y.:
"Deep phenotyping of myalgic encephalomyelitis/chronic fatigue syndrome in Japanese population."
Scientific Reports. 10(1):19933 (2020)

3.

Tran UT, Kitami T.:
"Niclosamide activates the NLRP3 inflammasome by intracellular acidification and mitochondrial inhibition."
Communications Biology. 2:2 (2019)

4.

Kaji T, Hijikata A, Ishige A, Kitami T, Watanabe T, Ohara O, Yanaka N, Okada M, Shimoda M, Taniguchi M, Takemori T.:
"CD4 memory T cells develop and acquire functional competence by sequential cognate interactions and stepwise gene regulation."
International Immunology. 28(6):267-82 (2016)

5.

*Sancak Y, Markhard AL, Kitami T, Kovács-Bogdán E, Kamer KJ, Udeshi ND, Carr SA, Chaudhuri D, Clapham DE, Li AA, Calvo SE, Goldberger O, Mootha VK.:
"EMRE is an essential component of the mitochondrial calcium uniporter complex."
Science. 342(6164):1379-82 (2013)

6.

*Jain M, Nilsson R, Sharma S, Madhusudhan N, Kitami T, Souza AL, Kafri R, Kirschner MW, Clish CB, Mootha VK.:
"Metabolite profiling identifies a key role for glycine in rapid cancer cell proliferation."
Science. 336(6084):1040-4 (2012)

7.

*Kitami T, Logan DJ, Negri J, Hasaka T, Tolliday NJ, Carpenter AE, Spiegelman BM, Mootha VK.:
"A chemical screen probing the relationship between mitochondrial content and cell size."
PLoS One. 7(3):e33755 (2012)

8.

*Wagner BK, Kitami T (co-first), Gilbert TJ, Peck D, Ramanathan A, Schreiber SL, Golub TR, Mootha VK.:
"Large-scale chemical dissection of mitochondrial function."
Nature Biotechnology. 26(3):343-51 (2008)
Lab Members
Principal investigator
Toshimori Kitami

Team Leader
Contact Information
N606A
1-7-22 Suehiro-cho, Tsurumi-ku,
Yokohama City, Kanagawa,
230-0045, Japan
Email: toshimori.kitami [at] riken.jp