RIKEN Center for Integrative Medical Sciences

RIKEN-IFOM Joint Laboratory for Cancer Genomics

Team Leader: Yasuhiro Murakawa (M.D., Ph.D)
Research Summary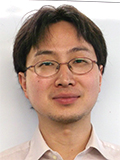 We aim to decipher the cis-regulatory code that governs the transcriptional landscapes of malignancies, thereby gaining fundamental insight into cancer development and maintenance. We are applying our original NET-CAGE technology to describe the active cis-regulatory landscape across diverse tumors, discovering differentially regulated enhancers, genes, and long non-coding RNAs. We further aim to develop a series of original technologies to investigate connectivity and functionality of cis-regulatory elements at both population and single-cell levels. Through integrated analysis of genomic data with clinical information, we explore molecular therapeutic targets and biomarkers.
Main Research Fields
Medicine, Dentistry & Pharmacy
Related Research Fields
Informatics
Complex Systems
Biology
Genomic Sciences
Keywords
Genomic Sciences
Enhancer
Bioinformatics
Genomic Medicine
RNA biology
Selected Publications
Papers with an asterisk(*) are based on research conducted outside of RIKEN.
1.

Hirabayashi S., Bhagat S., Matsuki Y., Takegami Y., Uehata T., Kanemaru A., Itoh M., Shirakawa K., Takaori-Kondo A., Takeuchi O., Carninci P., Katayama S., Hayashizaki Y., Kere J., Kawaji H., Murakawa Y.
NET-CAGE Characterizes Dynamics and Topology of Human Transcribed Cis-regulatory Elements
Nature Genetics, in press

2.

Yoshihara M., Araki A., Kasama Y., Sunayama M., Abe M., Nishida K., Kawaji H., Hayashizaki Y., Murakawa Y.
Hotspots of de novo point mutations in induced pluripotent stem cells.
Cell Reports, 21:308-315. (2017)

3.

Murakawa, Y., Yoshihara, M., Kawaji H., Nishikawa M., Zayed H., Suzuki H., Fantom Consortium, Hayashizaki Y.
Enhanced identification of transcriptinal enhancers provides mechanistic insights into diseases.
Trends in Genetics 32:76-88. (2016)

4.

*Murakawa, Y., Hinz, M., Mothes, J., Schuetz, A., Yasuda, T., Mastrobuoni, G., Friedel, C.C., Dolken, L., Kempa, S., Schmidt-Supprian, M., Heinemann, U., Wolf, J, Scheidereit, C., Landthaler, M.
RC3H1 represses the IKK/NF-κB negative feedback regulator A20 by binding to a 3'UTR composite structure-sequence element.
Nature Communications, 6:7367. (2015)

5.

*Mino, T., Murakawa, Y., Fukao, A., Vandenbon, A., Wessels, H., Ori, D., Uehata, T., Tartey, S., Akira, S., Suzuki, Y., Vinueesa, GG., Ohler, U., Standley, DM., Landthaler, M., Fujiwara, T., Takeuchi, O.
Regnase-1 and Roquin Regulate a Common Element in Inflammatory mRNAs by Spatiotemporally Distinct Mechanisms.
Cell, 161 1058-1073. (2015)

6.

*Rybak-Wolf, A. (#), Jens, M. (#), Murakawa, Y. (#), Herzog, M., Landthaler, M., Rajewsky, N.
A variety of Dicer substrates in human and C.elegans.
Cell, 159 1153-1167. (2014)

7.

*Schuetz, A., Murakawa, Y., Rosenbaum, E., Landthaler, M., Heinemann, U.
Roquin binding to stem-loop mRNAs induces protein dimerization and involves a winged helix-turn-helix motif.
Nature Communications, 5 5701. (2014)

8.

*Baltz, AG., Munschauer, M., Schwanhausser, B., Vasile, A., Murakawa, Y., Schueler, M., Youngs, N., Penfold-Brown, D., Drew, K., Milek, M., Wyler, E., Bonneau, R., Selbach, M., Dieterich, C., Landthaler, M.
The mRNA-bound proteome and its global occupancy profile on protein-coding transcripts.
Molecular Cell, 46 674-690. (2012)

9.

*Murakawa, Y., Sonoda, E., Barber, L.J., Zeng, W., Yokomori, K., Kimura, H., Niimi, A., Lehmann, A., Zhao, G.Y., Hochegger, H., Boulton, SJ., Takeda, S.
Inhibitors of the proteasome suppress homologous DNA recombination in mammalian cells.
Cancer research, 67, 8536-8543. (2007)

10.

*Zhao, G.Y., Sonoda, E., Barber, L.J., Oka, H., Murakawa, Y., Yamada, K., Ikura, T., Wang, X., Kobayashi, M., Yamamoto, K., Boulton, S.J., Takeda, S.
A critical role for the ubiquitin-conjugating enzyme Ubc13 in initiating homologous recombination.
Molecular Cell, 25, 663-675. (2007)
Recent Research Results
Lab Members
Principal investigator
Yasuhiro Murakawa

Team Leader
Contact Information
1-7-22, Suehiro-cho,
Tsurumi-ku, Yokohama,
Kanagawa, Japan
Email: yasuhiro.murakawa [at] riken.jp