RIKEN Center for Integrative Medical Sciences

Laboratory for Statistical and Translational Genetics

Team Leader: Chikashi Terao (M.D., Ph.D)
Research Summary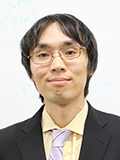 Our laboratory is interested in how we can draw biologically useful information from DNA, RNA and genetic studies and how we can apply the information to clinical settings in order to understand the basics of diseases and traits, to improve management of diseases and to develop novel treatment. Various diseases and traits are our targets, especially autoimmune diseases, hematology diseases and malignancies. We integrate multi-layered information of genetics, intermediate phenotypes and clinical information together and analyze by cutting-edge statistical genetics, epidemiological methods and machine learning-based approach.
Main Research Fields
Medicine, Dentistry & Pharmacy
Related Research Fields
Biology
Human Genetics
Genetics/Chromosome dynamics
Epidemiology and preventive medicine
Keywords
genetics
translational research
Applied genetics
Statistical genetics
Machine-learning deep learning
Selected Publications
Papers with an asterisk(*) are based on research conducted outside of RIKEN.
1.

Akizuki S, Ishigaki K, Kochi Y, Law SM, Matsuo K, Ohmura K, Suzuki A, Nakayama M, Iizuka Y, Koseki H, Ohara O, Hirata J, Kamatani Y, Matsuda F, Sumida T, Yamamoto K, Okada Y, Mimori T, Terao C*.:
"PLD4 is a genetic determinant to systemic lupus erythematosus and involved in murine autoimmune-phenotypes."
Ann Rheum Dis. 2019 (in press)

2.

Terao C*, Yoshifuji H, Matsumura T, Naruse TK, Ishii T, Nakaoka Y, Kirino Y, Matsuo K, Origuchi T, Shimizu M, Maejima Y, Amiya E, Tamura N, Kawaguchi T, Takahashi M, Setoh K, Ohmura K, Watanabe R, Horita T, Atsumi T, Matsukura M, Miyata T, Kochi Y, Suda T, Tanemoto K, Meguro A, Okada Y, Ogimoto A, Yamamoto M, Takahashi H, Nakayamada S, Saito K, Kuwana M, Mizuki N, Tabara Y, Ueda A, Komuro I, Kimura A, Isobe M, Mimori T, Matsuda F.:
"Genetic determinants and an epistasis of LILRA3 and HLA-B*52 in Takayasu arteritis."
Proc Natl Acad Sci U S A. 2018 Dec 18;115(51):13045-13050.

3.

Tsuji H, Ikari K, Ohmura K, Yano K, Furu M, Hashimoto M, Ito H, Fujii T, Yamamoto W, Taniguchi A, Yamanaka H, Mimori T, Terao C*.:
"A significant joint-destructive association of HLA-DRB1*04:05 independent of DAS28 in rheumatoid arthritis."
Ann Rheum Dis. 2019 Feb;78(2):284-286.

4.

*Terao C*, Okada Y, Ikari K, Kochi Y, Suzuki A, Ohmura K, Matsuo K, Taniguchi A, Kubo M, Raychaudhuri S, Yamamoto K, Yamanaka H, Kamatani Y, Mimori T, Matsuda F.:
"Genetic landscape of interactive effects of HLA-DRB1 alleles on susceptibility to ACPA(+) rheumatoid arthritis and ACPA levels in Japanese population."
J Med Genet. 2017 Dec;54(12):853-858.

5.

*Murata K, Fang C, Terao C, Giannopoulou EG, Lee YJ, Lee MJ, Mun SH, Bae S, Qiao Y, Yuan R, Furu M, Ito H, Ohmura K, Matsuda S, Mimori T, Matsuda F, Park-Min KH, Ivashkiv LB.:
"Hypoxia-Sensitive COMMD1 Integrates Signaling and Cellular Metabolism in Human Macrophages and Suppresses Osteoclastogenesis."
Immunity. 2017 Jul 18;47(1):66-79.e5.

6.

*Terao C*, Kawaguchi T, Dieude P, Varga J, Kuwana M, Hudson M, Kawaguchi Y, Matucci-Cerinic M, Ohmura K, Riemekasten G, Kawasaki A, Airo P, Horita T, Oka A, Hachulla E, Yoshifuji H, Caramaschi P, Hunzelmann N, Baron M, Atsumi T, Hassoun P, Torii T, Takahashi M, Tabara Y, Shimizu M, Tochimoto A, Ayuzawa N, Yanagida H, Furukawa H, Tohma S, Hasegawa M, Fujimoto M, Ishikawa O, Yamamoto T, Goto D, Asano Y, Jinnin M, Endo H, Takahashi H, Takehara K, Sato S, Ihn H, Raychaudhuri S, Liao K, Gregersen P, Tsuchiya N, Riccieri V, Melchers I, Valentini G, Cauvet A, Martinez M, Mimori T, Matsuda F, Allanore Y.:
"Trans-ethnic meta-analysis identifies GSDMA and PRDM1 as susceptibility genes to systemic sclerosis."
Ann Rheum Dis. 2017 Jun;76(6):1150-1158.

7.

*Terao C*, Yoshifuji H, Nakajima T, Yukawa N, Matsuda F, Mimori T.:
"Ustekinumab as a therapeutic option for Takayasu arteritis: from genetic findings to clinical application."
Scand J Rheumatol. 2016 Jan:45 (1), 80-82.

8.

*Okada Y, Wu D, Trynka G, Raj T, Terao C, Ikari K, Kochi Y, Ohmura K, Suzuki A, Yoshida S, Graham RR, Manoharan A, Ortmann W, Bhangale T, Denny JC, Carroll RJ, Eyler AE, Greenberg JD, Kremer JM, Pappas DA, Jiang L, Yin J, Ye L, Su DF, Yang J, Xie G, Keystone E, Westra HJ, Esko T, Metspalu A, Zhou X, Gupta N, Mirel D, Stahl EA, Diogo D, Cui J, Liao K, Guo MH, Myouzen K, Kawaguchi T, Coenen MJ, van Riel PL, van de Laar MA, Guchelaar HJ, Huizinga TW, Dieude P, Mariette X, Louis Bridges Jr S, Zhernakova A, Toes RE, Tak PP, Miceli-Richard C, Bang SY, Lee HS, Martin J, Gonzalez-Gay MA, Rodriguez-Rodriguez L, Rantapaa-Dahlqvist S, Arlestig L, Choi HK, Kamatani Y, Galan P, Lathrop M; the RACI consortium; the GARNET consortium, Eyre S, Bowes J, Barton A, de Vries N, Moreland LW, Criswell LA, Karlson EW, Taniguchi A, Yamada R, Kubo M, Liu JS, Bae SC, Worthington J, Padyukov L, Klareskog L, Gregersen PK, Raychaudhuri S, Stranger BE, De Jager PL, Franke L, Visscher PM, Brown MA, Yamanaka H, Mimori T, Takahashi A, Xu H, Behrens TW, Siminovitch KA, Momohara S, Matsuda F, Yamamoto K, Plenge RM.:
"Genetics of rheumatoid arthritis contributes to biology and drug discovery."
Nature. 2014 Feb 20;506(7488):376-381.

9.

*Terao C*, Yoshifuji H, Kimura A, Matsumura T, Ohmura K, Takahashi M, Shimizu M, Kawaguchi T, Chen Z, Naruse TK, Sato-Otsubo A, Ebana Y, Maejima Y, Kinoshita H, Murakami K, Kawabata D, Wada Y, Narita I, Tazaki J, Kawaguchi Y, Yamanaka H, Yurugi K, Miura Y, Maekawa T, Ogawa S, Komuro I, Nagai R, Yamada R, Tabara Y, Isobe M, Mimori T, Matsuda F.:
"Two Susceptibility Loci to Takayasu Arteritis Reveal a Synergistic Role of the IL12B and HLA-B Regions in a Japanese Population."
Am J Hum Genet. 2013;93(2):289-97.

10.

*Okada Y, Terao C(co-first), Ikari K, Kochi Y, Ohmura K, Suzuki A, Kawaguchi T, Stahl EA, Kurreeman FA, Nishida N, Ohmiya H, Myouzen K, Takahashi M, Sawada T, Nishioka Y, Yukioka M, Matsubara T, Wakitani S, Teshima R, Tohma S, Takasugi K, Shimada K, Murasawa A, Honjo S, Matsuo K, Tanaka H, Tajima K, Suzuki T, Iwamoto T, Kawamura Y, Tanii H, Okazaki Y, Sasaki T, Gregersen PK, Padyukov L, Worthington J, Siminovitch KA, Lathrop M, Taniguchi A, Takahashi A, Tokunaga K, Kubo M, Nakamura Y, Kamatani N, Mimori T, Plenge RM, Yamanaka H, Momohara S, Yamada R, Matsuda F, Yamamoto K.:
"Meta-analysis identifies nine new loci associated with rheumatoid arthritis in the Japanese population."
Nat Genet. 2012;44(5):51
Recent Research Results
Lab Members
Principal investigator
Chikashi Terao

Team Leader
Core members
Shunichi Kosugi

Research Scientist

Masaru Koido

Postdoctoral Researcher
Careers
Contact Information
3rd floor, East Research Building,
1-7-22 Suehiro-cho, Tsurumi-ku,
Yokohama City, Kanagawa,
230-0045, Japan
Tel: +81-(0)45-503-9553
Fax: +81-(0)45-503-9113
Email: chikashi.terao [at] riken.jp