RIKEN Center for Computational Science

Biomedical Computational Intelligence Unit

Unit Leader: Yasushi Okuno (Ph.D.)
Research Summary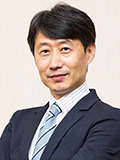 1.

Elucidation of structure, dynamics, and function of biomolecules by integrating of simulation, AI and experiments

2.

Development of network approach for elucidation of disease mechanisms and identification of target molecules for drug discovery

3.

Development of AI and simulation technologies for translational research between clinical and basic research
Main Research Fields
Medicine, Dentistry & Pharmacy
Related Research Fields
Informatics
Complex Systems
Interdisciplinary Science & Engineering
Keywords
Medicine
Drug Discovery
Artificial Intelligence
Simulation
Translational Research
Selected Publications
1.

Kenichiro Takaba, Chiduru Watanabe, Atsushi Tokuhisa, Yoshinobu Akinaga, Biao Ma, Ryo Kanada, Mitsugu Araki, Yasushi Okuno, Yusuke Kawashima, Hirotomo Moriwaki, Norihito Kawashita, Teruki Honma, Kaori Fukuzawa, Shigenori Tanaka:
"Protein–ligand binding affinity prediction of cyclin‐dependent kinase‐2 inhibitors by dynamically averaged fragment molecular orbital‐based interaction energy"
Journal of Computational Chemistry 43(20) 1362-1371 2022

2.

Atsushi Tokuhisa, Yoshinobu Akinaga, Kei Terayama, Yuji Okamoto, Yasushi Okuno:
"Single-Image Super-Resolution Improvement of X-ray Single-Particle Diffraction Images Using a Convolutional Neural Network"
Journal of Chemical Information and Modeling 2022

3.

Nakamura K, Kojima R, Uchino E, Ono K, Yanagita M, Murashita K, Itoh K, Nakaji S, Okuno Y:
"Health improvement framework for actionable treatment planning using a surrogate Bayesian model"
Nature Communications. 12:3088, 2021.

4.

Matsumoto S, Ishida S, Araki M, Kato T, Terayama K, Okuno Y:
"Extraction of protein dynamics information from cryo-EM maps using deep learning"
Nature Machine Intelligence. 3:153-160, 2021.

5.

Tanaka, Y, Higashihara, K, Nakazawa, M.A, Yamashita F, Tamada Y, Okuno Y:
"Dynamic changes in gene-to-gene regulatory networks in response to SARS-CoV-2 infection"
Scientific Reports. 11:11241, 2021.

6.

Koichiro Kato, Tomohide Masuda, Chiduru Watanabe, Naoki Miyagawa, Hideo Mizouchi, Shumpei Nagase, Kikuko Kamisaka, Kanji Oshima, Satoshi Ono, Hiroshi Ueda, Atsushi Tokuhisa, Ryo Kanada, Masateru Ohta, Mitsunori Ikeguchi, Yasushi Okuno, Kaori Fukuzawa, Teruki Honma:
"High-Precision Atomic Charge Prediction for Protein Systems Using Fragment Molecular Orbital Calculation and Machine Learning."
Journal of chemical information and modeling 60(7) 3361-3368 2020

7.

Kojima R, Ishida S, Ohta, M, Iwata H, Honma T, Okuno Y:
"kGCN: a graph-based deep learning framework for chemical structure"
Journal of Cheminformatics. 12:32, 2020.

8.

Tanaka Y, Tamada Y, Ikeguchi M, Yamashita F, Okuno Y:
"System-based differential gene network analysis for characterizing sample-specific subnetwork"
Biomolecules. 10(2):306, 2020.

9.

Tokuhisa, A, Kanada, R, Chiba, S, Terayama K, Isaka Y, Ma B, Kamiya N, Okuno Y:
"Coarse-grained diffraction template matching model to retrieve multiconformational models for biomolecule structures from noisy diffraction patterns"
Journal of Chemical Information and Modeling. 60(6): 2803-2818, 2020.

10.

Matsumoto S, Araki M, Isaka Y, Ono F, Hirohashi K, Ohashi S, Muto M, Okuno Y:
"E487K-induced disorder in functionally relevant dynamics of mitochondrial aldehyde dehydrogenase 2"
Biophysical Journal. 119(3):628-637, 2020.
Related Links
Lab Members
Principal investigator
Yasushi Okuno

Unit Leader
Core members
Atsushi Tokuhisa

Senior Scientist

Biao Ma

Research Scientist
Contact Information
7-1-26, Minatojima-minami-machi,
Chuo-ku, Kobe,Hyogo
650-0047, Japan
Email: yasushi.okuno [at] riken.jp