RIKEN Information R&D and Strategy Headquarters

Psychological Process Research Team

Team Leader: Wataru Sato (Ph.D.)
Research Summary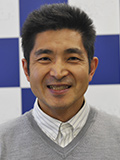 We conduct research to elucidate the computational mechanisms of human mind (emotions, cognition, and behavior) to develop robots with mind.
Specifically, we conduct the following research.
Computational elucidation of human mind; its implementation in robots collaborating with engineers.
Psychological evaluation of robots' functions.
Interdisciplinary research across psychology, informatics, and robotics, especially on emotional communication.
Main Research Fields
Related Research Fields
Engineering
Informatics
Humanities & Social Sciences
Humanities
Social Sciences
Interdisciplinary Science & Engineering
Mathematical & Physical Sciences
Biological Sciences
Biology
Medicine, Dentistry & Pharmacy
Experimental psychology
Basic / Social brain science
Intelligent robotics
Keywords
Emotion
Facial expression
Social interaction
Human-robot interaction
Neuroimaging
Selected Publications
1.

Sato, W., Yoshikawa, S., and Fushiki, T.:
"Facial EMG activity is associated with hedonic experiences but not nutritional values while viewing food images"
Nutrients (in press).

2.

Nishimura, S., Kimata, D., Sato, W., Kanbara, M., Fujimoto, Y., Kato, H., and Hagita, N.:
"Positive emotion amplification by representing excitement scene with TV chat agents"
Sensors (in press).

3.

Sato, W., Kochiyama, T., and Yoshikawa, S.:
"Physiological correlates of subjective emotional valence and arousal dynamics while viewing films"
Biological Psychology, 157, 107974 (2020).

4.

Hsu, C.-T., Sato, W., and Yoshikawa, S.:
"Enhanced emotional and motor responses to live vs. videotaped dynamic facial expressions"
Scientific Reports, 10, 16825 (2020).

5.

Sato, W., Rymarczyk, K., Minemoto, K., and Hyniewska, S.:
"Cultural differences in food detection"
Scientific Reports, 10, 17285 (2020).

6.

Sato, W., Uono, S., and Kochiyama, T.:
"Neurocognitive mechanisms underlying social atypicalities in autism: Weak amygdala's emotional modulation hypothesis"
Frontiers in Psychiatry, 11, 864 (2020).

7.

Sato, W.:
"Association between dieting failure and unconscious hedonic responses to food"
Frontiers in Psychology, 11, 2089 (2020).

8.

Sato, W., Minemoto, K., Sawada, R., Miyazaki, Y., and Fushiki, T.:
"Image database of Japanese food samples with nutrition information"
PeerJ, 8, e9206 (2020).
Lab Members
Principal investigator
Wataru Sato

Team Leader
Core members
Chun-Ting Hsu

Research Scientist

Akie Saito

Research Scientist

Shushi Namba

Research Scientist
Contact Information
3rd Floor, Advanced Telecommunications Research Institute International
2-2-2 Hikaridai Seika-cho, Sorakugun, Kyoto
619-0288 Japan (Kansai Science City)
Tel:+81-(0)774-95-1360
Email: wataru.sato.ya [at] riken.jp