RIKEN SPring-8 Center

Life Science Research Infrastructure Group

Group Director: Masaki Yamamoto (Ph.D.)
Research Summary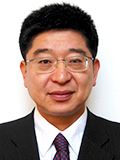 Macromolecular crystallography (MX) of difficult target such as membrane proteins has been successfully achieved by using bright light source of SPring-8. To emphasize the application of structural analysis such as better understanding of life and drug discovery, our group advance the research facilities (SPring-8 and SACLA) for MX or small angle X-ray scattering (Bio-SAXS). Moreover, we facilitate the use of electron cryo-microscopy (cryo-EM) to expect synergy on structural biology activity in addition to those techniques using X-ray. Our group tackle with new structural life science for complex structure-function analysis by combining such state-of-the-art analytical techniques.
Main Research Fields
Related Research Fields
Chemistry
Engineering
Biological Sciences
Agricultural Sciences
Medicine, Dentistry & Pharmacy
Structural biochemistry
Biophysics
Drug development chemistry
Keywords
Structural life Science
Structural Biology
Correlative Structural Analysis
Drug Discovery
Structural Dynamics
Selected Publications
1.

Nishida, Y., Yanagisawa, S., Morita, R., Shigematsu, H., Shinzawa-Itoh, K., Yuki, H., Ogasawara, S., Shimuta, K., Iwamoto, T., Nakabayashi, C., Matsumura, W., Kato, H., Gopalasingam, C., Nagao, T., Qaqorh, T., Takahashi, Y., Yamazaki, S., Kamiya, K., Harada, R., Mizuno, N., Takahashi, H., Akeda, Y., Ohnishi, M., Ishii, Y., Kumasaka, T., Murata, T., Muramoto, K., Tosha, T., Shiro, Y., Honma, T., Shigeta, Y., Kubo, M., Takashima, S., and Shintani, Y.:
"Identifying antibiotics based on structural differences in the conserved allostery from mitochondrial heme-copper oxidases"
Nature Communications 13, 7591 (2022).

2.

Gerle, C., Kishikawa, J.I., Yamaguchi, T., Nakanishi, A., Çoruh, O., Makino, F., Miyata, T., Kawamoto, A., Yokoyama, K., Namba, K., and Kurisu, G.:
"Structures of multisubunit membrane complexes with the CRYO ARM 200"
Microscopy 71(5), 249-261 (2022).

3.

Yoshimi, K., Takeshita, K., Kodera, N., Shibumura, S., Yamauchi, Y., Omatsu, M., Umeda, K., Kunihiro, Y., Yamamoto, M., and Mashimo, T.:
"Dynamic mechanisms of CRISPR interference by Escherichia coli CRISPR-Cas3"
Nature communications 13(1), 4917 (2022).

4.

Gopalasingam, C.C., and Hasnain, S.S.:
"Frontiers in metalloprotein crystallography and cryogenic electron microscopy"
Current Opinion in Structural Biology 75, 102420 (2022).

5.

Kutsukawa, R., Imaizumi, R., Suenaga-Hiromori, M., Takeshita, K., Sakai, N., Misawa, S., Yamamoto, M., Yamaguchi, H., Miyagi-Inoue, Y., Waki, T., Kataoka, K., Nakayama, T., Yamashita, S., and Takahashi, S.:
"Structure-based engineering of a short-chain cis-prenyltransferase to biosynthesize nonnatural all-cis-polyisoprenoids: molecular mechanisms for primer substrate recognition and ultimate product chain-length determination"
The FEBS Journal 289(15), (2022).

6.

Tanaka, S., Morita, M., Yamagishi, T., Madapally, H.V., Hayashida, K., Khandelia, H., Gerle, C., Shigematsu, H., Oshima, A., and Abe, K.:
"Structural Basis for Binding of Potassium-Competitive Acid Blockers to the Gastric Proton Pump"
Journal of Medicinal Chemistry 65(11), 7843-7853 (2022).

7.

Baba, S., Matsuura, H., Kawamura, T., Sakai, N., Nakamura, Y., Kawano, Y., Mizuno, N., Kumasaka, T., Yamamoto, M., and Hirata, K.:
"Guidelines for de novo phasing using multiple small-wedge data collection"
Journal of Synchrotron Radiation 28, 1284-1295 (2021).

8.

Tojo, S., Zhang, Z., Matsui, H., Tahara, M., Ikeguchi, M., Kochi, M., Kamada, M., Shigematsu, H., Tsutsumi, A., Adachi, N., Shibata, T., Yamamoto, M., Kikkawa, M., Senda, T., Isobe, Y., Ohto, U., and Shimizu T.:
"Structural analysis reveals TLR7 dynamics underlying antagonism"
Nature Communications 11(1), 5204 (2020).

9.

Gopalasingam, C.C., Johnson, R.M., Chiduza, G.N., Tosha, T., Yamamoto, M., Shiro, Y., Antonyuk, S.V., Muench, S.P., and Hasnain, S.S.:
"Dimeric structures of quinol-dependent nitric oxide reductases (qNORs) revealed by cryo–electron microscopy"
Science Advances 5(8), eaax1803 (2019).

10.

Yamamoto, M., Hirata, K., Yamashita, K., Hasegawa, K., Ueno, G., Ago, H., and Kumasaka, T.:
"Protein microcrystallography using synchrotron radiation"
IUCrJ 4 (5), 529-539 (2017).
Related Links
Lab Members
Principal investigator
Masaki Yamamoto

Group Director
Core members
Kohei Takeshita

Research Scientist

Christoph Gerle

Research Scientist

Hiroaki Matsuura

Postdoctoral Researcher

Chai Gopalasingam

Postdoctoral Researcher
Contact Information
Structural Biology Facility,
1-1-1 Kouto, Sayo-cho,
Sayo-gun, Hyogo,
679-5148 Japan
Tel: +81-(0)791-58-2839
Fax: +81-(0)791-58-2834
Email: yamamoto [at] riken.jp
Organization