RIKEN SPring-8 Center

Basic Laser Development Team

Team Leader: Takunori Taira (Ph.D.)
Research Summary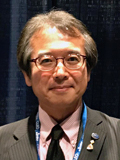 "Micro Solid-State Photonics", based on micro domain structure and boundary controlled materials, such as laser ceramics and quasi phase matching (QPM) devices, enhances optical effects for creation of new functions in the micro- or microchip lasers. Lately, we invented the multiple-chip gain medium for distributed face cooling (DFC), which could manage the high-gain and high-field laser with compact system, by our original atomic-level direct-bonding. Basic Laser Development Team will develop the compact power lasers based on these Tiny Integrated LAsers (TILA) to provide the extreme giant-power, and open their fruitful future of "Giant Micro-photonics" for the advanced electron accelerators.
Main Research Fields
Interdisciplinary Science & Engineering
Related Research Fields
Engineering
Quantum beam science
Applied physics
Physics
Keywords
Tiny Integrated Lasers (TILA)
Giant Micro-photonics
Micro Solid-State Photonics
Orientation Controlled Ceramic Lasers
Large Aperture Quasi Phase Matching (QPM) devices
Selected Publications
Papers with an asterisk(*) are based on research conducted outside of RIKEN.
1.

Ishizuki, H., and Taira, T.:
"Polarity inversion of crystal quartz using a quasi-phase matching stamp"
Opt. Express, vol. 28, no. 5, pp. 6505-6510 (2020).

2.

Jolly, S.W., Matlis, N.H., Ahr, F., Leroux, V., Eichner, T., Calendron, A.-L., Ishizuki, H., Taira, T., and Kartner, F.X., and Maier, A.R.:
"Spectral phase control of interfering chirped pulses for high-energy narrowband terahertz generation"
Nature Communications, vol. 10, Article number 2591 (2019).

3.

Kawasaki,T., Yahia, V., and Taira, T.:
"100 Hz operation in the 10 PW/sr・cm2 class Nd:YAG Micro-MOPA"
Opt. Express, vol. 27, no. 14, pp. 19555-19561 (2019)

4.

Zheng, L., Kausas, A., and Taira, T.:
">30 MW peak power from distributed face cooling tiny integrated laser"
Opt. Express, vol. 27, no. 21, pp. 30217-30224 (2019).

5.

*Matlis, N.H., Ahr, F., Calendron, A.-L., Cankaya, H., Cirmi, G., Eichner, T., Fallahi, A., Fakhari, M., Hartin, A., Hemmer, M., Huang, W.R., Ishizuki, H., Jolly, S.W., Leroux, V., Maier, A.R., Meier, J., Qiao, W., Ravi, K., Schimpf, D.N., Taira, T., Wu, X., Zapata, L., Zapata, C., Zhang, D., Zhou, C., and Kartner, F.X.:
"Acceleration of electrons in THz driven structures for AXSIS,"
Nuclear Inst. and Methods in Physics Research A, vol. 909, pp. 27-32 (2018).

6.

*Sato, Y., Akiyama, J., and Taira, T.
"Process design of microdomains with quantum mechanics for giant pulse lasers,"
Scientific Reports, 7: 10732 (11 pages) (2017)

7.

*Taira, T.:
"Domain-controlled laser ceramics toward giant micro-photonics [Invited]"
Opt. Mater. Express, vol. 1, no. 5, pp. 1040-1050 (2011)

8.

*Taira, T.:
"RE3+-ion-doped YAG ceramic lasers,"
IEEE J. Sel. Top. Quantum Electron., vol. 13, no. 3, May/June, pp. 798-809 (2007.5-6).

9.

*Taira, T., Tulloch, W. M. and Byer, R.L.:
"Modeling of quasi-three-level lasers and operation of CW Yb:YAG lasers"
Appl. Opt., vol. 36, no. 9, pp. 1867-1874 (1997)

10.

*Taira, T., Mukai, A., Nozawa, Y., and Kobayashi, T.:
"Single-mode oscillation of laser-diode-pumped Nd:YVO4 microchip lasers"
Opt. Lett., vol. 16, no. 24, pp. 1955-1957 (1991)
Events
Publications
Related Links
Lab Members
Principal investigator
Takunori Taira

Team Leader
Core members
Hideki Ishizuki

Research Scientist

Yoichi Sato

Research Scientist

Akihiro Tsuji

Research Scientist
Contact Information
1-1-1 Kouto, Sayo-cho,
Sayo-gun, Hyogo,
679-5148 Japan
Tel: +81-(0)791-58-0803 (PHS:7805)
Email: taira [at] spring8.or.jp