President's Activities
2023
RIKEN Policy Retreat (February 1, 2023)
For the first time in four years, the RIKEN Policy Retreat was held in-person, in addition to being streamed online. The February 1 retreat allowed for personnel involved in RIKEN's management to meet in one place, and in addition to sharing operational principles, they broadly discussed the direction of mid-to long-term research to reflect in RIKEN's operational policies. Executive directors under the president, center directors, and external experts who are members of the RIKEN Strategy Committee carried out lively discussions on ways to reach a broader range of researchers and how to retain talented scientists from within Japan and from overseas.

2022
Discussion on the goals of the EU and RIKEN (December 12, 2022)
President Gonokami attended an informal lunch meeting where he discussed the relationship between RIKEN and the the European Union with EU Ambassador-Designate to Japan Jean-Eric Paquet.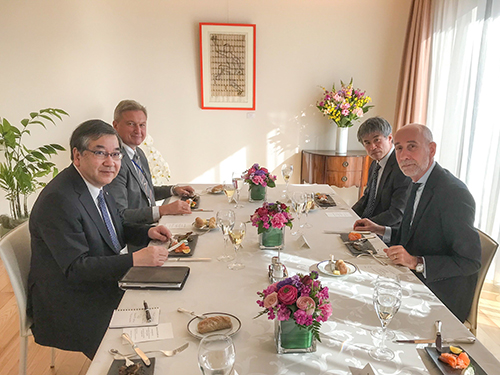 Clockwise, from left: President Gonokami, First Counsellor Gediminas Ramanauskas of the Delegation of the European Union to Japan, RIKEN International Affairs Division Director Kenichi Fujita, and Ambassador Paquet
Discussion on the future collaboration between RIKEN and Italy (December 9, 2022)
President Gonokami discussed the current state and future of cooperation between RIKEN and Italy with Italian Ambassador Gianluigi Benedetti and Enrico Traversa, Science & Technology Counsellor of the Embassy of Italy in Tokyo.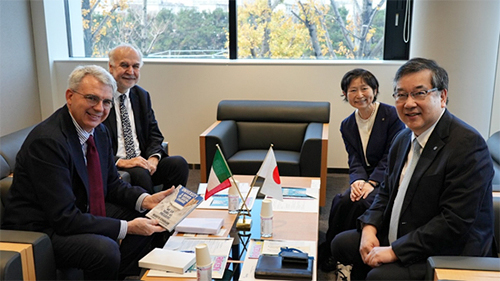 (from left) Italian Ambassador Gianluigi Benedetti, Science & Technology Counsellor Enrico Traversa, Executive Director Makiko Naka, President Makoto Gonokami
Related link