Opening of USM-RIKEN Joint Laboratory for Bioprobe Discovery
On September 22, 2011, the RIKEN Advanced Science Institute (ASI) and the Universiti Sains Malaysia (USM) held an event to commemorate the signing of a Memorandum of Understanding between RIKEN and the USM together with the opening of the USM-RIKEN Joint Laboratory for Bioprobe Discovery at the Institute of Research in Molecular Medicine, USM. To further reinforce the collaborative relationship as well as to establish a leadership role in the field, a RIKEN-USM Joint Research Team was created on September 22, 2011, within the Chemical Biology core facility of RIKEN ASI's Chemical Biology Department.
The Joint Research between RIKEN and USM aims to isolate novel biological active compounds from tropical plants found in Southeast Asia, particularly in Malaysia. By utilizing RIKEN's chemical library, the Joint Research aims to develop drugs for tropical diseases such as malaria and dengue fever in Southeast Asia.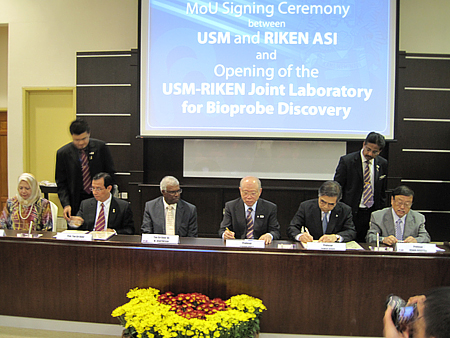 Opening event for the joint laboratory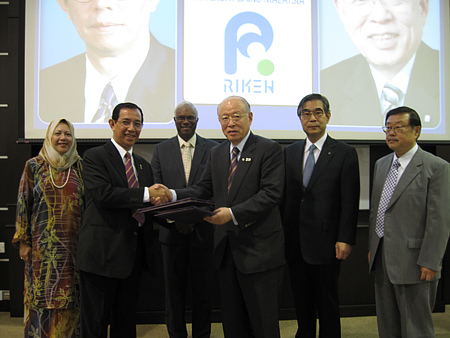 From left, Prof. Asma (Deputy Vice-Chancellor), Prof. Dzulkifli Abdul Razak (Vice-Chancellor), Prof. M Jegathesan (Pro-Chancellor), Dr. Noyori, Dr. Tamao, Dr. Osada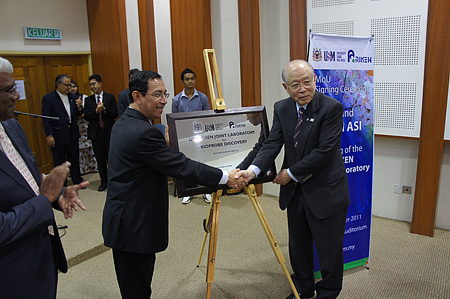 Plaque of the joint laboratory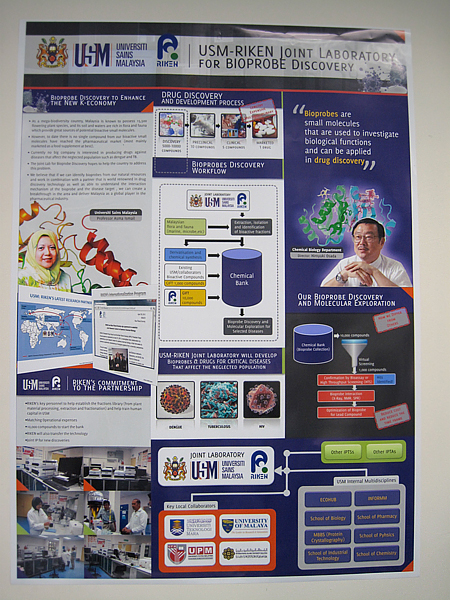 Poster about the research