RIKEN and Kazan Federal University Celebrates Opening of Joint Research Laboratory
Honorary Doctorate from Kazan Federal University awarded to President Ryoji Noyori
On May 2, 2012, a commemorative event marking the opening of the RIKEN-Kazan Federal University Joint Research Laboratory was held. President Ryoji Noyori, RIKEN Advanced Science Institute (ASI) Director Kohei Tamao, and Chief Scientist Dr. Kimitoshi Kono visited the university in Russia.
In the morning, members from RIKEN met with Professor Ilshat Gafurov, Kazan University's Rector, and the Director of the Institute of Physics. Dr. Kono of ASI and Prof. Dmitrii Tayurskii have been collaborating in the field of Physics of Complex Systems, particularly Low Temperature Physics. In November 2010, the partners signed a memorandum of understanding establishing a Joint Research Laboratory at Kazan Federal University. The visit brought together all core members involved for the first time, an occasion to celebrate the establishment of the Joint Research Laboratory. Members from RIKEN were also given a tour of laboratories of the Institute of Physics while being introduced to their research. The two institutes discussed ideas to further enhance their partnership.
In the afternoon, following a tour of the university museum, President Noyori received an Honorary Doctorate from Rector Gafurov in the presence of 250 people, including Academicians of the Russian Academy of Sciences, students and Professors of the university's department of Physics and Chemistry. After the ceremony, a plenary lecture was held referring to his field of expertise, asymmetric catalysis, and its relevance to Ruthenium, an element discovered by professor Klaus from the Kazan Federal University. President Noyori emphasized the importance of young students and scientists to work hand in hand with others from different cultural and scientific backgrounds in order to build a sustainable society.
After the ceremony, members from RIKEN visited the Institute of Chemistry and the Museum of Kazan School of Chemistry, where they were introduced to the university's history of Chemistry, particularly of Organic Chemistry. The partners exchanged ideas to strengthen collaboration in fields other than Physics in the future.
Schedule
May 2: RIKEN and Kazan Federal University Celebrates the Opening of a Joint Research Laboratory
May 3: President Ryoji Noyori Pays a Courtesy Call to the President of the Republic of Tatarstan
May 4: President Ryoji Noyori and Delegates Pay Their Respect to Moscow State University Rector
May 6: President Ryoji Noyori and Delegates Meet with the Vice Rector of Saint Petersburg State University
May 7: President Noyori Meets with Representatives of the Institute of Silicate Chemistry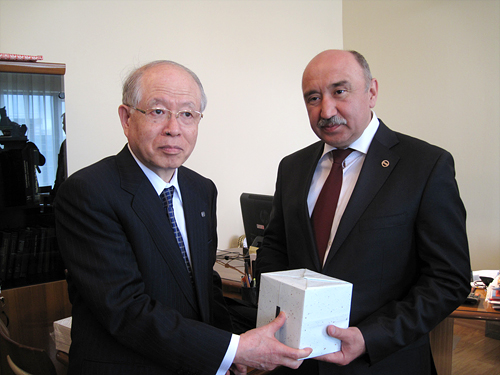 Image of President Noyori exchanging a gift with Rector Ilshat Gafuro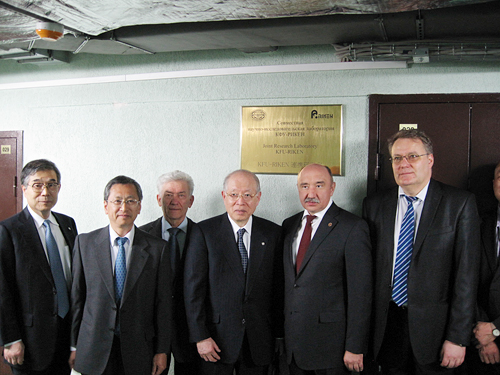 The Opening of a RIKEN-Kazan Federal University Joint Laboratory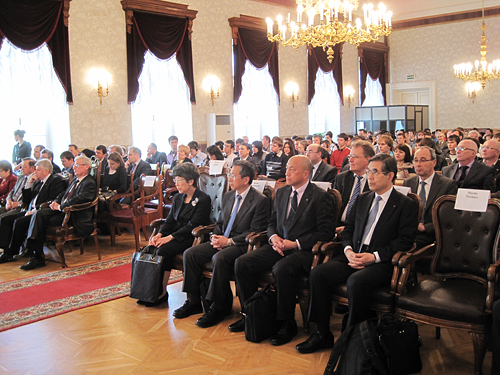 Commencement Ceremony for President Noyori's Honorary Doctorate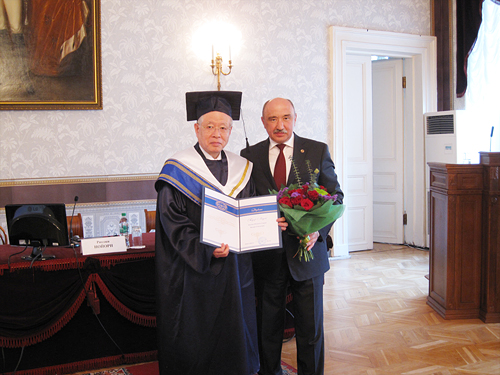 Commemorative photo for President Noyori's Honorary Doctorate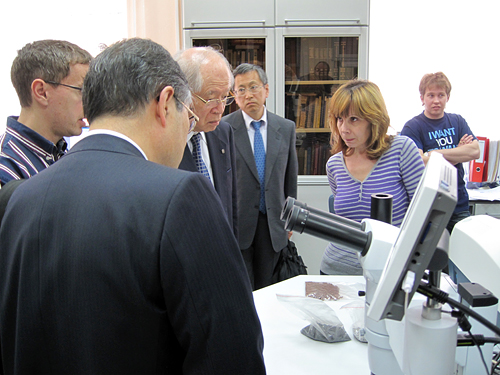 Visit to the Institute of Chemistry