President Noyori Meets with Representatives of the Institute of Silicate Chemistry
On May 7, 2012, President Ryoji Noyori, and RIKEN Advanced Science Institute Director Kohei Tamao met with the Institute of Silicate Chemistry of Russian Academy of Sciences Director Academician Professor Uloadimir Ya. Shevchenko, Deputy Director Irina Kruchinina, and Academician Professor Mikhail G. Voronkov. The meeting took place under the favor of Professor Voronkov, an old friend of Dr. Tamao. Professor Voronkov hastened to the scene from the Irkutsk Institute of Chemistry, his concurrent workplace, and kindly invited the above members to his home despite it was a national holiday in Russia.
During the hour-long meeting, the attendees traced the history of Organic Chemistry, and promised to maintain close dialogue after reaffirming the importance of strengthening Japan-Russia relations.
Schedule
May 2: RIKEN and Kazan Federal University Celebrates the Opening of a Joint Research Laboratory
May 3: President Ryoji Noyori Pays a Courtesy Call to the President of the Republic of Tatarstan
May 4: President Ryoji Noyori and Delegates Pay Their Respect to Moscow State University Rector
May 6: President Ryoji Noyori and Delegates Meet with the Vice Rector of Saint Petersburg State University
May 7: President Noyori Meets with Representatives of the Institute of Silicate Chemistry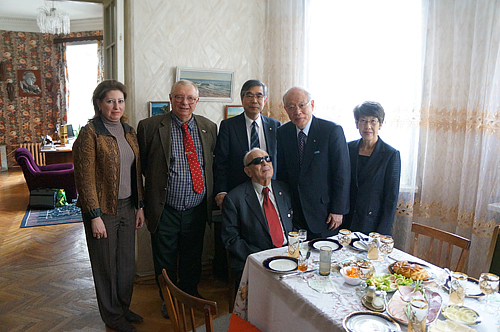 Meeting with representatives of Institute of Silicate Chemistry (Saint Petersburg)