President Ryoji Noyori Pays a Courtesy Call to the President of the Republic of Tatarstan
On May 3, 2012, President Ryoji Noyori paid a courtesy call to the President of Republic of Tatarstan, Rustam Minnikhanov.
The visit was held in the presence of Kohei Tamao, RIKEN Advanced Scietist Director, Chief Scientist Kimitoshi Kono, Rector Ilshat Gafurov of Kazan Federal University, Professor Dmitrii Tayurskii, and Republic of Tatarstan Minister of Education Albert Gilmutdinov. During the event, there were talks about Presidents Noyori's conferment of an Honorary Doctorate from Kazan Federal University and the collaborating research between Chief Scientist Kono and Professor Tayurskii. The participants affirmed the significance of enhancing partnership between Japan and Russia. Cross-cultural exchanges were mentioned to be crucial to build a sustainable society, and there was emphasis on the need to develop the education environment including the enhancement of mutual exchange.
In the afternoon, President Noyori and the delegation visited the Institute for Organic and Physical Chemistry affiliated to the Russian Academy of Sciences to discuss future arrangements to reinforce relations.
Schedule
May 2: RIKEN and Kazan Federal University Celebrates the Opening of a Joint Research Laboratory
May 3: President Ryoji Noyori Pays a Courtesy Call to the President of the Republic of Tatarstan
May 4: President Ryoji Noyori and Delegates Pay Their Respect to Moscow State University Rector
May 6: President Ryoji Noyori and Delegates Meet with the Vice Rector of Saint Petersburg State University
May 7: President Noyori Meets with Representatives of the Institute of Silicate Chemistry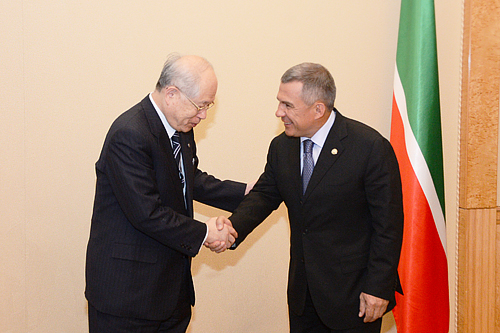 Courtesy Call on the President of the Republic of Tatarstan
*See also other photos and videos of the visit from the President of the Republic of Tatarstan website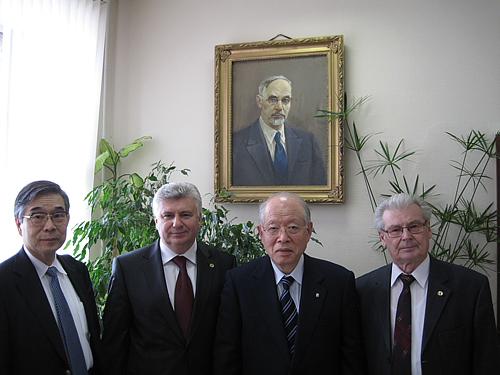 Visit of Institute of Organic and Physical Chemistry